90% of buildings at Bluewaters undergoing work on façades as the island nears completion
Meraas has revealed construction at Bluewaters is over 75 percent complete. Construction has transitioned from structural work to the distinctive façades on the island in preparation for the handover of the unique Bluewaters residences in Q1, 2018.

The new destination will be home to Ain Dubai, the tallest and largest observation wheel in the world. More than 90 percent of the buildings at Bluewaters have undergone work on their facades, including all 10 apartment buildings and 17 townhouses, which offer stunning panoramic views of The Palm, The Beach opposite JBR, the ocean, gardens, and spectacular city skyline. Bluewaters will also have over 200 retail and dining outlets in addition to leisure and entertainment and hospitality components, and a vibrant plaza – all of which are at advanced stages of construction.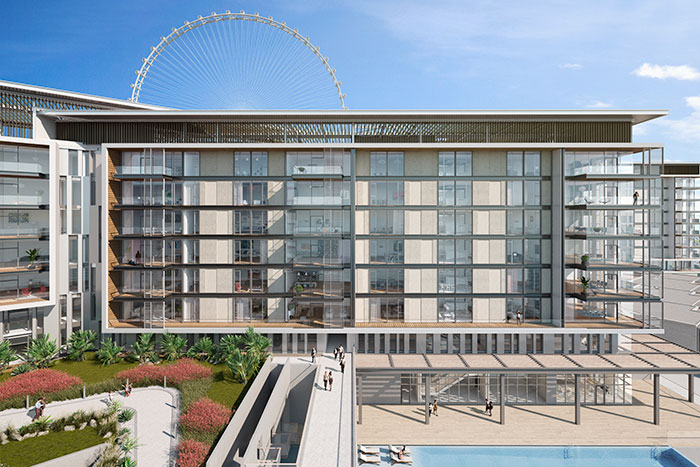 Brian Schofield, Vice President – Projects at Meraas, said: "The idea behind Bluewaters is to create a family-orientated neighbourhood where homebuyers can put down roots and feel a deep connection to the place they call home, which is why we're committed to ensuring work on each of the island's features continues moving forward simultaneously."

"This requires a great deal of coordination and in bringing the entire Bluewaters experience to life, we've engaged five main contractors and over 40 of the world's leading consultant firms to ensure we are able to deliver a creative urban destination that meets the highest international standards of quality. At its peak, 16,500 employees and 25 cranes a day have worked on Bluewaters, with 64 million man-hours recorded and 12,000 direct jobs sustained over the last twelve months."

Five major projects are underway simultaneously at Bluewaters, including its iconic centrepiece, Ain Dubai, which will become the world's largest tourist hotspot and a new landmark in Dubai that will reach heights in excess of 210 metres. This includes work on the elegant mid-rise towers and townhouses; as well as the boulevard, retail and dining, leisure and entertainment experiences, two hotels, and the infrastructure that connects the community to the city.

Bluewaters is connected by direct road access to Sheikh Zayed Road and an innovative driverless Group Rapid Transport system with 25 autonomous vehicles ferrying 2,500 people an hour in each direction on the 4.5-minute journey between Bluewaters and the Dubai Metro. A 265-metre pedestrian bridge will also link the island to more lifestyle opportunities at The Beach.

With a collection of unique apartments, penthouses, and townhouses, Bluewaters promises a life that blends island, waterfront living with the exhilaration of urban life. Homeowners will live in a community complete with its own private landscaped garden podium; four swimming pools and changing facilities; a children's pool, splash pad, and play area; two basketball courts, two gyms, and a dedicated fitness area.

Michelle Saywood, Vice President of Design at Meraas, said: "Meraas is passionate about urban environments like Bluewaters, where people can experience the city. This commitment has evolved, and has seen new urban landscapes emerge that offer unique experiences for residents and visitors in Dubai. The vibrancy that we are injecting into destinations like Bluewaters has also become a benchmark for developments across the city."

"In fact, every inch of Bluewaters has been considered to understand how we can help people to create and share memories in Dubai. It's about places people can associate with, homes they can live in, and places they can work and socialise. That's what is at the core of our design ethos and is what differentiates Bluewaters."

The residences at Bluewaters were released to the market via an immersive sales centre at The Beach in March 2017, less than a month after Core Savills were appointed by Meraas as exclusive sales agents for the homes at the waterfront destination.

Manisha Dayaram, Associate Director – Head of Projects at Core Savills, said: "From what we have seen in the market, we expect around 80 percent of the community that lives at Bluewaters to be homeowners that will be looking not just at how the residences are taking shape, but at the facilities, amenities, infrastructure, and services that will be available to them when they move in. In this sense, the way that Bluewaters is being developed is one of the major selling points among those that have already made enquiries."

Website:
http://www.bluewatersdubai.ae