A Passion for Sustainable Living
Our body consists of 60% water and it is essential to consume about two liters of water per day to stay hydrated and healthy. We are significantly careful in selecting the right brand of water that we drink on a daily basis, but we often forget to inquire about the source of the water or how it is being stored and delivered to us.

Since the invention of synthetic polymer back in early 1900s, plastic became the material of choice to store food and beverages, as it can be easily molded into different shapes and sizes. It's a very cost effective solution too; almost 95% of water brands choose plastic to produce bottled water. But we often forget the electron decay problem that physics has told us about since the last century. With time, plastic bottles release potentially harmful toxins and chemicals. The process increases exponentially when bottles are exposed to sunlight or stored for long time. The UAE has one of the world's highest rates of bottled water consumption, and most of the plastic water bottles produced are not recycled.

Almost 99% of homes and offices in the UAE rely on plastic bottled water gallons for consumption.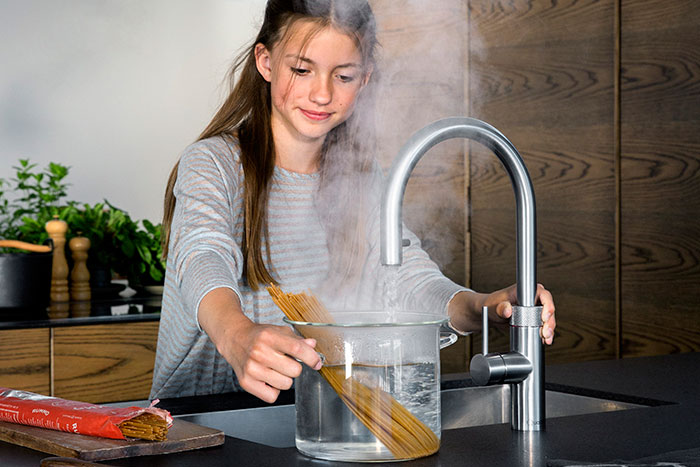 Jakob Johannsen, Managing Partner, Quooker UAE, commented: "Tap water in UAE is safer to drink than bottled water. Quooker offers different tap solutions, installed in your kitchen sink, that immediately dispenses filtered, 100 degrees C boiling, chilled and sparkling water right from the tap. By installing a Quooker system you save time and energy, which ultimately benefits you and the environment. Get instant boiling water and filtered cold drinking water. No more carrying water bottles home. Plastic cannot be the right choice of material to distribute water anymore, as a lot of harmful chemical toxins are released in the water when bottles are exposed to sunlight while being moved from one place to another".

Johannsen continued: "There is a need to raise public awareness about the use of bottled drinking water in the UAE. Plastic is also very harmful for the environment. It is not easily recyclable and pose great threat to marine and animal life. In the age of climate change that is being caused by growing human population, we really need to reconsider our consumption habits".

Quooker UAE is a member of the "Drop it" campaign and is collaborating with the Danish Business Women Dubai in hosting a sustainability event under the theme, "A passion for sustainable living" on May 15th . During the event, Tatiana Abella from Goumbook will be giving an insight about sustainable living. More info on the event on dbwd.org.
Website:
http://www.quooker.ae