A Reflective White and Gold Trendsetting Home Design
Thought and designed entirely by husband and wife Vratika & Nakul, this home design, (which is their actual home), proves that with the right design inspiration and the help of the most exquisite luxury brands, you can be your own interior designer!

In this design project, there is an abode of luxury brands and yet, they perfectly coexist without overpowering each other. A feat hard to achieve, this home design has furniture designs from top designer brands such as Boca do Lobo, Koket, Baxter, Lladro, Edra, Moooi, Baccarat, Tom Dixon, Fornasetti, Kelly Hoppen, among many others!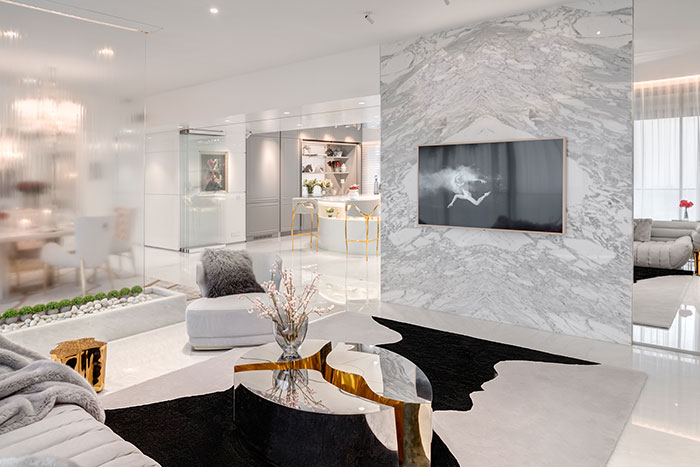 Photo by COVETHOUSE
Every corner of this home design and every art piece in it, tells a story. Greatly inspired by top interior designers Phillipe Starck and Marcel Wanders, the client wanted to create white decor, with reflective surfaces to give the rooms a bigger feel. Exquisite material and unique touches in the furniture design bring a sense of glam into the luxury residence.

The idea was to create an open space plan for the home design, in the process of making it, a lot of modifications were. Ultimately, it was a trip to Salone del Mobile that brought many changes to the design structure, but also a lot of final decisions. In the design fair, the client was inspired to bring outdoors into the living room by adding green plants to the interiors which further enhanced the whole experience.

The kitchen design features a glass island which is a complete U-shaped glass structure. A 20ft "U" shaped glass was moulded and curved to absolute perfection to give the kitchen space a seamless and brilliant finish and adorned with Chandra bar stools from Koket to add a touch of glam and style.

Chandra is both bold and daring. The modern edge in this chair exudes the feeling of vintage glam, while metal bands delicately bind the chair highlighting the sculpted fluidity of the tight back upholstery. Koket

@COVETHOUSE_ #COVETHOUSE