ACME Intralog Becomes Exclusive Distributor of Leuze Sensor Products in The Region
ACME Intralog, the leading provider of industrial and intralogistics automation components and solutions in MENA region, has announced an agreement with Leuze, a German manufacturer of industrial automation solutions, to become exclusive distributor of the company's products, which include sensors and safety equipment.

The distribution arrangement between Acme Intralog FZCO and Leuze Turkey subsidiary, will see ACME carry a full range of high-quality products from the sensor manufacturer, for the markets of United Arab Emirates, Saudi Arabia, Bahrain and Oman.

Established more than 50 years ago, Leuze manufactures a wide variety of products for industrial automation – including sensors for switching, measuring, safety, identification, data transmission, industrial image processing, network and connection technology, as well as accessories and supplementary products.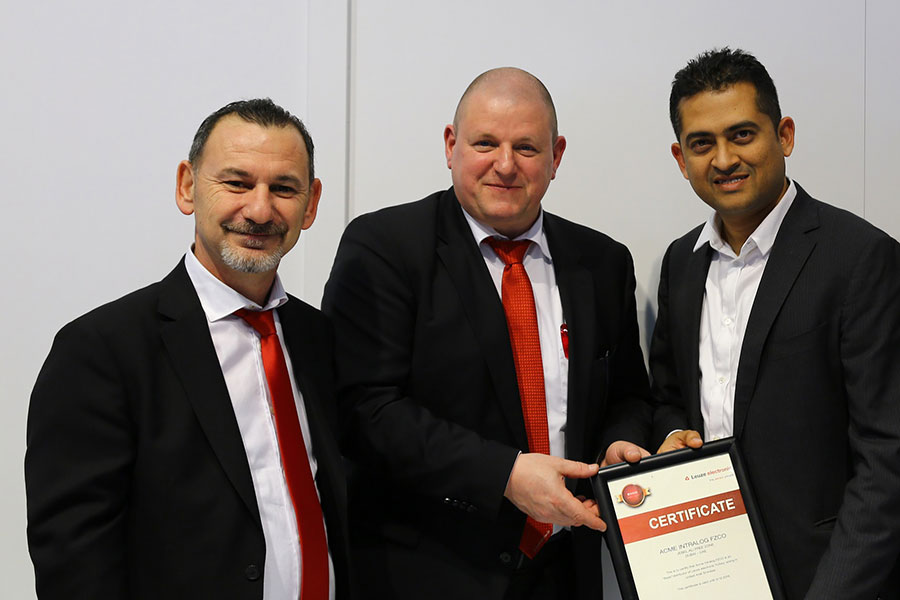 Navin Narayan, CEO, ACME (Right) | Matthias Hoehl, Vice President Sales Asia, Leuze (Centre) | Tolga, Managing Director, Leuze Turkey and MENA Region (Left)
Navin Narayan, CEO, ACME Intralog, says: "As sensors become more integral to the industrial automation landscape, we want to be able to provide top-of-the-line solutions. Partnering with Leuze helps us to achieve that. Leuze sensor products are tailored to industries that are predominant in the region like logistics, retail, food and beverage, manufacturing, printing and packaging, to name just a few. Our agreement with Leuze underlines UAE's 'Operation 300bn' strategy to position the country as a global industrial hub by 2031. As the UAE moves ahead with its aim to make the country's industrial sector become a driving force of a sustainable national economy, this is the ideal moment for us to offer an expanded range of leading-quality automation solutions."

The agreement will also enable ACME to utilise Leuze's innovative technologies when developing solutions for its customers in the region – allowing companies in the region to benefit from optimum usability and the highest levels of performance.

Samet Sarıkaya, Country Sales and Marketing Manager, Turkey & MENA at Leuze, said: "Our products are designed to be reliable, durable and user friendly. With over 1000 employees and subsidiaries all over the world, Leuze customers particularly appreciate the quick access to customer service. With ACME as an authorized distributor of Leuze sensors, switches, safety products, cables, connectors and more; we will be able to better serve customers in the Middle East region."

Leuze is an innovative and efficient sensor solutions provider for industrial automation applications. Over the past 50 years or so, the company has grown into an international enterprise and is considered a technology driver.

#Leuze #Automation @TheSensorPeople #AcmeGroup @acmedubai
Website:
https://acme-world.com/