Acme Revolutionises Hygienic Handling in Industries Through Schmalz Vacuum Tube Lifters
To meet the hygienic needs of food, pharmaceutical, biotech and other industries in the region, Acme Intralog has introduced the vacuum handling system "PalVac Sprint Hygienic" from German manufacturer Schmalz. The innovative vacuum handling system moves heavy loads in clean rooms and hygienic areas, helping professionals with the handling of shrink-wrapped goods such as bags, drums and jugs. The intuitive and ergonomic operation makes the PalVac the ideal helper for depalletizing, machine loading and many other lifting tasks.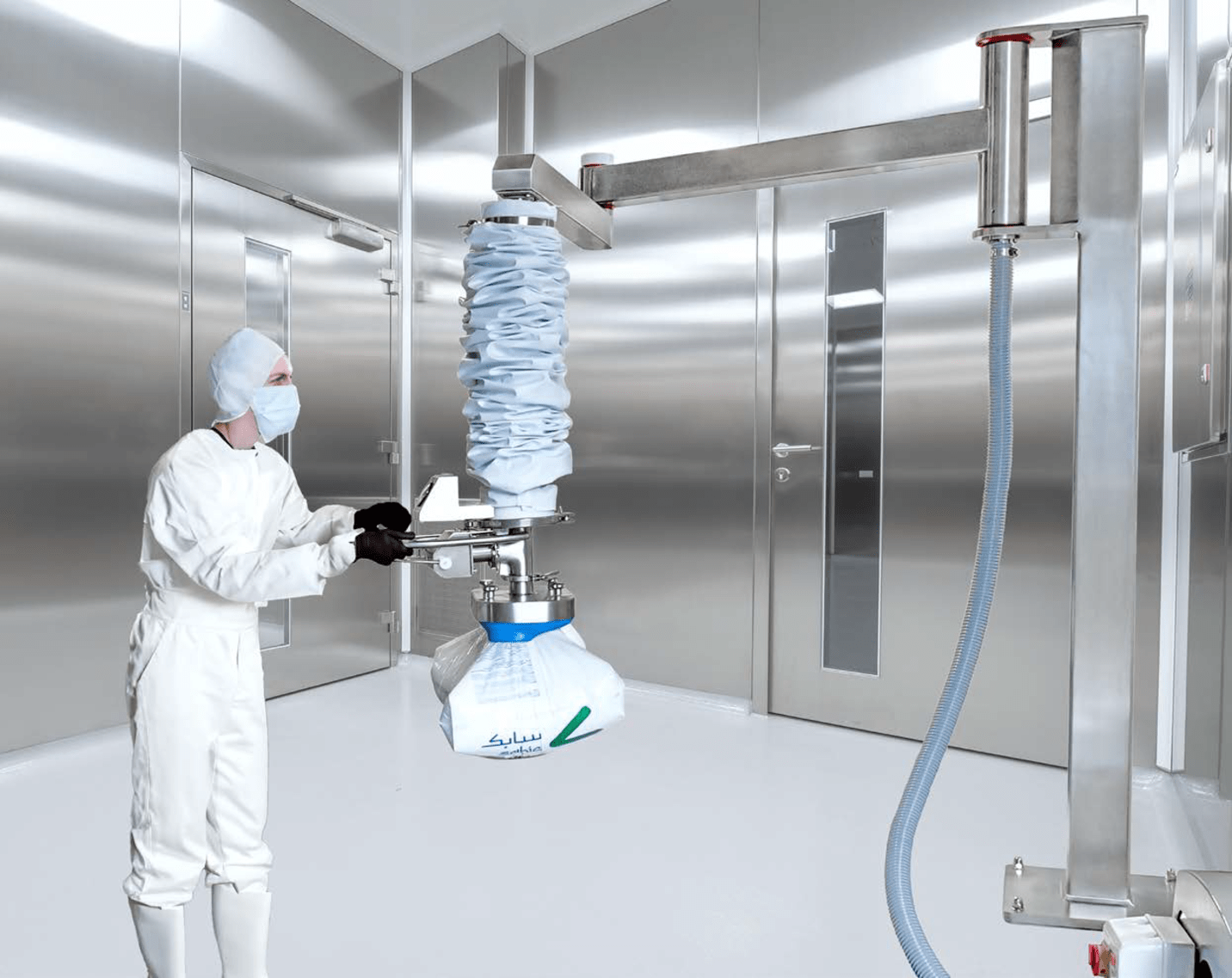 The ergonomic design, use of high-quality components and materials, and the surface finish of the systems reduce the risk of contamination and at the same time allow the systems to be cleaned quickly and easily.

According to Navin Narayan, CEO of Acme Intralog: "Whether in clean rooms in pharmaceutical production or in hygienic areas in food processing, PalVac cranes in combination with PalVac Hygienic vacuum tube lifters ensure ergonomically correct handling and efficient material flow. They support fatigue-free handling."

Move loads up to 50 kilograms
The handling solution consists of a vacuum tube lifter and a crane. Tri-Clover connections link the lifting unit, control panel and gripper. The gripper seals are made of FDA-compliant silicone suitable for direct use on food products. The HEPA filter integrated into the tube lifter protects the inside of the lifting tube from contamination.
A differential pressure indicator provides information on the degree of contamination of the filter elements, so that a change can take place at the right time. An electrical blower generates the vacuum, which moves loads of up to 50 kilograms. Individually matched suction cups are suitable for different workpieces. The operator handle with bow-shaped grip allows the load to be lifted, lowered and released.
Large radius of action
PalVac stainless-steel jib cranes provide the necessary radius of action for the PalVac tube lifter. Also made of stainless-steel and optimized for hygiene, they are perfect for use in all areas where cleanliness is essential. The diamond-shaped crane section reduces horizontal areas and simplifies cleaning of the crane.
The cranes can be individually configured for different applications and allow high working speeds and positioning accuracy. The crane column is suitable for floor or ceiling mounting, and the slewing bearing enables movements of 220 degrees. Employees can adjust the responsiveness of the crane via an adjustment screw. Depending on the application, the PalVac crane operates with a conventional or an articulated-arm jib.
Acme is the sole distributor of Schmalz products in the Middle East.
@acmedubai #acmedubai #Schmalz @schmalz_group #schmalz_group
Website:
https://acme-world.com/