ACTS announces winners of Egg Protection Device Competition
Advanced Construction Technology Services (ACTS), a consulting organization in the field of construction materials and geotechnical engineering, has announced the winners of its student competition called "ACI Egg Protection Device". Topping the contest, which was held in cooperation with ACI Lebanon Chapter, was the duo from the University of Balamand comprised of Celine Habib and Mariane Abi Fadel.

The announcement was made at the recently held Future Concrete Lebanon 2014, an annual international capability building event for the construction industry organized by ACTS. As the first-place team, Celine and Mariane were awarded a trip to attend the ACI 2014 Fall Convention scheduled on October 26 – 30 in Washington D.C., USA. Second Place Honors went to Noor Issa and Nivine El Kheir from The Lebanese University, Tripoli, while Rached Rached, also from the University of Balamand, was adjudged Third Place Winner. Cash awards of US$ 500 and 200 were given to the second and third placed winners respectively.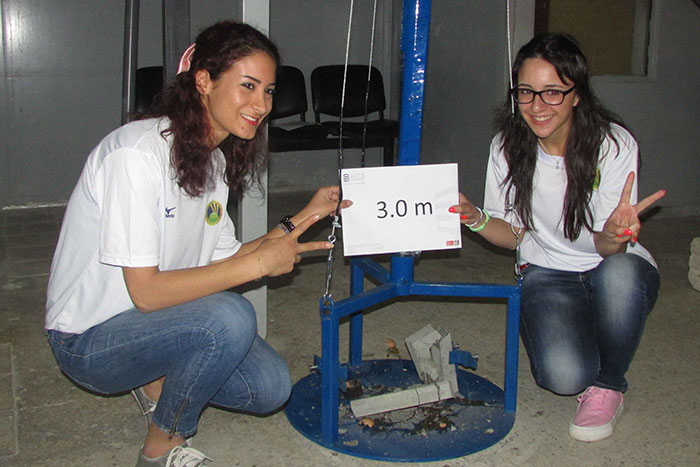 First place winners Celine Habib and Mariane Abi Fadel from University of Balamand.
The competition challenged participants to design and build the highest-impact-load resistant plain or reinforced concrete Egg Protection Device (EPD), which is a concrete arch meant to protect an egg placed underneath that is subject to destruction by impact loading. During the testing procedure, each EPD was subjected to an impact load of 8 kg falling from several increasing heights of 0.5 m, 1.0 m, 1.5 m, 2.0 m, 2.5 m, and up to five times from 3.0 m. The winning EPD was determined based on the maximum cumulative height reached prior to failure (cracking of the egg constitutes failure of the EPD).

Commenting on the overall experience of competition, Celine said, "Joining this competition was a great experience. It has widened my knowledge and lots of opportunities were opened to me. It pushed me to my limits and made me challenge myself. Moreover, to begin the chance to attend the ACI conference in the US in the name of Lebanon is a great opportunity for a student like me. Thank you ACI Lebanon Chapter and ACTS for giving us this opportunity!"

Mariane, on the other hand, echoed the same sentiments, "Being able to join this competition and win the first prize, gave me the chance to prove myself and improve my self-esteem. It's such an honor to represent Lebanon and my university in the ACI Conference in Washington and I look forward to meeting students, professors and technical professionals from all over the world. This was a unique experience and might be one of the most important stages of my life. This competition has given a great impact on the start of my career life!"

Khaled Awad, Chairman of ACTS and President of the Lebanese Concrete Society-ACI Lebanon Chapter said, "Once again we witnessed such immense potential from our university students who participated in the competition. The overall competition foretells how much progress the construction industry can further achieve with the help of these talented and motivated youth. We are so proud to be able to host education initiatives like this to provide for advanced learning and training, engaging the students in educational field challenges and practical concrete projects. We are also pleased to announce that another exciting competition for engineering students in Lebanon will be a part of our Future Concrete 2015 Conference."

ACTS has been known to spearhead various educational and training initiatives in the region to help construction professionals stay abreast of the latest development and technologies in the industry. One of ACTS' much-awaited events is the international Future Concrete conference, which continues to attract experts and professionals from all over the world. Acknowledged as a premier event in the industry, this year's staging of the conference in Beirut was supported by Sodamco-Weber, ARACO Ready-Mix Concrete, Cimenterie Nationale, Ciment de Sibline, and Zerock.