Advancements in Robotics: Breaking Barriers in The Construction Sector
The construction industry has long been an important part of the economy, contributing to the infrastructure that allows us to live and work in the modern world. While the industry is thriving, it does face some challenges, such as the need for increased efficiency, cost-effectiveness, and safety. However, this is now being solved by advancements in robotics that are revolutionising the sector, enabling faster and more accurate construction, while also lowering the risks connected with human labour.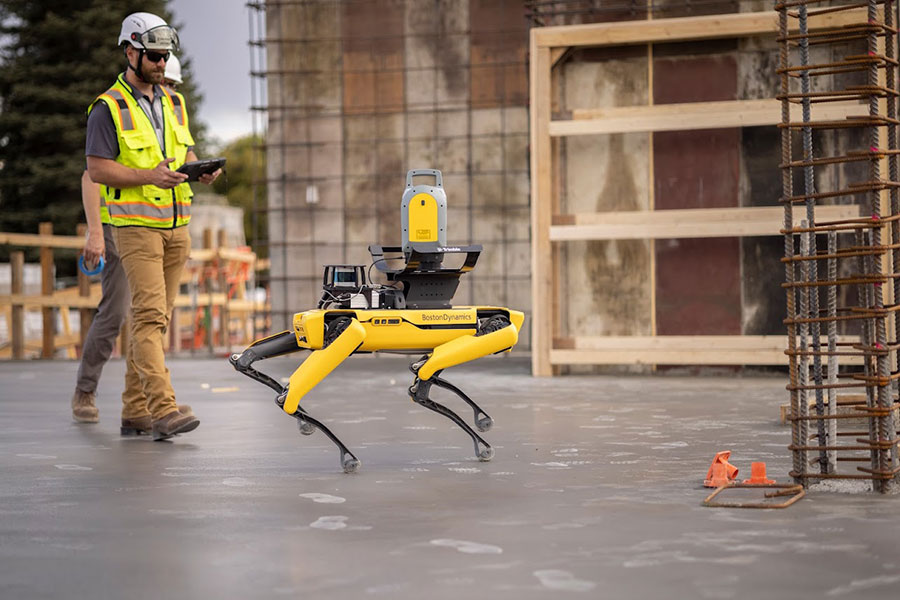 The concept of a humanoid machine first emerged in the beginning of the 20th century, with George C. Devol developing the first known robots in the 1950s. Modern robotics was born with Devol's creation of the reprogrammable manipulator known as 'Unimate.' After the first industrial robots were invented in the 1950s and put to use by the automotive industry in the 1960s, construction automation utilising robotics saw a slow but steady rise in the 1960s and 1970s. Although factory automation spread rapidly throughout the industrial world, construction automation took longer to gain traction. Today, there is a renewed interest in construction automation, largely owing to effective collaboration among businesses, governments, and academic institutions.

At present, one of the most significant advancements in robotics for construction is the use of automated vehicles and drones. These tools are equipped to carry out operations like excavation, demolition, and transportation, completely eliminating the need for manual labour. Using this technology, building contractors can also gather real-time data from the job site, which is essential for project management and planning.

Use of robotic arms and exoskeletons is another significant advancement in the sector. These devices can promise additional strength and accuracy for employees, allowing them to perform tasks that would otherwise be impossible or difficult. An employee wearing an exoskeleton, for instance, can easily lift heavy objects, thereby lowering the risk of injury and increasing efficiency.

Robotics in construction, however, comes with its share of difficulties, with the need for qualified technicians to run and maintain the machines being one of the obstacles. Additionally, smaller construction companies may find it challenging to adopt robotics due to the technology's high upfront costs, which limits the possibility of democratizing the technology.

That being said, a major challenge in the segment is the need for greater collaboration and standardisation among robotics manufacturers and construction companies. Currently, it is challenging for construction companies to implement and integrate robotics technology into their workflows due to a lack of standardisation in robotics hardware and software. In order to stay ahead of the curve and fuel growth in the robotics sector, businesses must initiate strategic partnerships with technology providers, such as Trimble, one of the leading digital construction solutions providers in the Middle East.

One of the key advantages of Trimble's robotic solutions is their compatibility with other technologies, such as BIM (Building Information Modelling). As a result, the construction process can be more precisely controlled, which improves project efficiency and lowers costs. Moreover, the use of the Trimble RTS (Robotic Total Station), a fully automated robotic system that can perform a variety of tasks, including layout and measurement, has been instrumental in various construction projects, providing unparalleled accuracy and efficiency across operations.

Trimble's robotic solutions are also developed to operate in hazardous or difficult-to-reach locations. Robots can be used to perform maintenance and inspections on tunnels, bridges, and other structures that are potentially dangerous or difficult for people to access. One such example is 'Spot', Trimble and Boston Dynamics advanced robotic dog, that is designed for industrial and commercial use, and is capable of easily navigating through a variety of environments and terrains. The robot can be programmed to perform a variety of tasks, including inspecting and monitoring job sites and assisting with search and rescue operations. It can be further outfitted with a range of accessories and tools, such as cameras, sensors, and grippers, to perform more specialised tasks.

Robotics in construction appears to have a bright future despite certain obstacles. Companies like Trimble are assisting in redefining the future of the construction industry with continuous development of new and improved tools and software. By utilising robotics in building and construction, Trimble has already shown the advantages of this technology, including improved accuracy, effectiveness, and safety. As the industry evolves, users can expect to come across further advanced robotics solutions that will help revolutionise the way we build and construct our world.

Website:
https://www.trimble.com/en/solutions/technologies/overview