Airport Show-2019 to serve as an influential platform for international companies
Massive investments in airport infrastructure expansion in the Middle East, North Africa and South Asia (MENASA) continues to be a major pull for companies from across the world to further consolidate their business through participation in Dubai's hugely-popular Airport trade exhibition.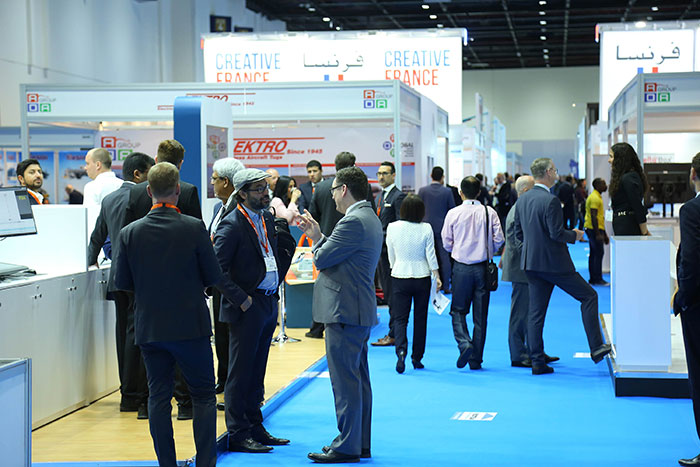 The world's largest annual airport exhibition is all set to be power-packed when it returns for its 19th year in Dubai this April with a record 375 exhibitors expected from 60 countries. Of these, the total number of international companies will be 150+, of which 50+ are new international exhibitors. More than 60 top industry bellwethers are also participating at the event including Ulma Handling Systems, ADB Safegate, Honeywell, Nokia, Smiths Detection, IDEMIA, DFS Aviation Services, Vanderlande and TLD.

Up to 75 per cent of last year's exhibitors are returning to this year's show which is held under the patronage of His Highness Sheikh Ahmed bin Saeed Al Maktoum, President of Dubai Civil Aviation Authority, Chairman of Dubai Airports and Chairman and Chief Executive of Emirates Airline and Group. The Airport Show, is organised by the Reed Exhibitions Middle East and will take place at the Dubai International Convention and Exhibition Centre (DICEC) from 29 April - 1 May.

The dedicated B2B event will have more than 7,500 attendees and will feature two co-located events: Air Traffic Control (ATC) Forum and Airport Security Middle East, as well as a newly-revamped Global Airport Leaders Forum (GALF), Women in Aviation (WIA) General Assembly and a new addition, CAPA's Middle East & Africa Aviation Summit. This year, the event's exclusive Business Matchmaking programme is expected to exceed 300 Hosted Buyers across the multiple content and networking events.

International exhibitors are keen to tap the vast growth potential of the aviation industry which is soaring new heights of expansion, with an investment of US$90 billion alone projected to go into the Middle East by 2020 - three-fourths of which will be in the Arabian Gulf region.

Together with the US$845 billion investment in existing airport projects such as new runways, terminal buildings and extensions, US$1.1 trillion in airport infrastructure projects are planned or underway. Airports in the UAE are investing up to US$50 billion in new and expanded projects over the next 15 years.

His Excellency Mohammed Abdulla Ahli, Director General of ‬Dubai Civil Aviation Authority‭ (‬DCAA‭) and CEO of Dubai Air Navigation Services (DANS), remarked: "Specialised‭ ‬exhibitions of an industry are‭ ‬a great way to reach out to a target market‭, ‬create brand awareness and promote products and services to a‭ ‬broader group‭. Trade fair participation is above all targeted at gaining new customers and enabling procurement decisions."‬‬‬‬‬‬‬‬‬‬‬‬‬‬‬‬‬‬‬‬‬‬‬‬‬‬‬‬‬‬‬‬‬‬‬‬‬‬‬‬‬‬‬‬‬‬‬‬‬‬‬‬‬‬‬‬‬‬‬‬‬‬‬

Daniyal Qureshi, Group Exhibition Director at Reed Exhibitions Middle East, said: "The show will once again demonstrate the UAE and MENASA region's attractiveness for global players in the aviation industry. International exhibitors are coming in increasing numbers each year, which is a clear indication of the region's standing as a global aviation growth market and a testimony to the ease of doing business here. Airport Show plays an important role in building long-lasting business relationships for our industry."

Exhibitions serve as an influential platform for companies, professionals and industry experts to come together, share information and build long-lasting business relationships. Expanding markets and globalization have made trade exhibitions an inevitable part of marketing and promotions. They are one of the most effective mediums for establishing and maintaining customer relations and provide face-to-face customer contact.

Daniyal added: "Exhibiting at an international trade event is a proven investment in your company's future. One of the benefits of being at the trade show is developing strong relationships with key decision makers at airports, ANSPs, Security agencies, Civil Aviation authorities, Ground Handlers and other government stakeholders. The Show's considerable international appeal is reflected in the increasing percentage of exhibitors and visitors that come from abroad. This strong international appeal makes it unique throughout the aviation industry."

Germany-based DFS Aviation Services and its subsidiary DFS Aviation Services Bahrain are looking forward to reach out to the Middle East market with a focus on expanding their network even further. DFS wants to present itself as a competent and reliable partner for ATM and consultancy services with many years of experience in the region.

Its two Managing Directors, Andreas Pötzsch and Oliver P. Cristinetti say Airport Show was one of the best possibilities to present new technologies and meet aviation leaders from the Middle East and nearby regions. The professional exchange on new developments in aviation, and getting to know potential customers will be their main focus at the Show. This year, they will be showcasing the new PHOENIX WebInnovation technology, amongst others.

Another exhibitor is Collins Aerospace. Rakan Khaled, Director of Global Business, says his company have been participating in the Airport Show for more than a decade now, having found it more solid in standing and wider in reach in the aviation domain on all levels - local, regional and global.

He remarked: "It is an excellent platform for our business globally in general and in the Middle East and Africa in particular. Collins Aerospace now proudly provides many aviation-related solutions to airports and airlines." As this event focuses more on airports, his company will be showing more of their airport products which includes all the airport operations systems and passenger processing systems in addition to new technologies like SBD, Biometrics and Cloud Solutions.

@AirportShow1 #AirportShow1 #DubaiAirportShow