Al Maha Ceramics Brings State-Of-Art Polishing and Squaring Tiles in the GCC Region
Al Maha Ceramics SAOG, one of the sultanate's leading ceramic tiles manufacturer recently launched its new polishing and squaring lines at its factory premises in Sohar. The company unveiled its new lines under the auspices of His Excellency Sheikh Ali bin Ahmed bin Mishary Al Shamsi, the Wali of Sohar, and in the presence of several high profile dignitaries, channel partners, contractors, tile distributors, real-estate developers, consultants, customers and members of the media fraternity.

This is the first time this technology has been brought in the region. Commenting on the sidelines of the launch ceremony, Mr. Masoud Al Harthy, Chairman, Al Maha Ceramics said: "We are delighted to launch our all-new polishing and squaring lines, as well as to showcase some of our most exclusive product lines vis-à-vis this launch. Our tiles are engineered with cutting-edge global technology and materials keeping in view with European norms and standards; offering modern Italian and Spanish designs that help bring a unique, innovative, and aesthetic look and feel to one's office and living spaces."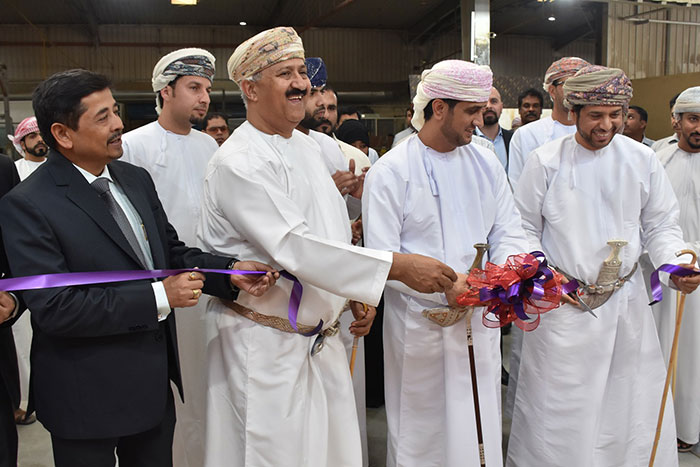 He elaborated: "Al Maha Ceramics is a pioneer in launching differentiated products, and is committed to keeping abreast with the latest technological advancements in the field of ceramic tile manufacturing which enables us to launch innovative products on a regular basis. Infact, we are adding two new sub-brands to our portfolio - 'Reflexon' which is a high polished digitally printed tile that is available in random patterns with superior strength; and 'Diamond Edge', which is a superior quality rectified tiles range. Through the launch of our new polishing and squaring lines, with this launch we are focusing to boost our local market share, while also concentrating on exporting our products to other countries in the GCC and MENA region."

'Every tile is a masterpiece' is more than a brand promise for Al Maha Ceramics. It is what the company strives for - perfection in design and quality par excellence; which is attained by systematic quality assurance procedures at every level of its operation. The new range of tiles are available in Random patterns that give them a natural appearance; and it is noteworthy that Al Maha Ceramics is the only company in the Middle East to offer high polished tiles with less than six percent of water absorption; given their extraordinary strength.

The company is striving to be a major ceramic tile manufacturing company in the GCC region, and has been initiating the launch of differentiated products in the market. Al Maha Ceramics has a world-class manufacturing facility for wall and floor tiles in Sohar and has a distribution network spread across the Oman, UAE, Saudi Arabia, Qatar, Bahrain, Lebanon, Jordan and Africa. The company is delighted to achieve yet another milestone in their growth story with the inauguration of the new polishing and squaring lines; and their growing brand portfolio and network marks the increasing confidence that customers and stakeholders have in the brand.
Website:
http://www.almahaceramics.com