Al Tayer inaugurates 1MW solar panel plant at Emirates Modern Poultry
HE Saeed Mohammed Al Tayer, MD & CEO of Dubai Electricity and Water Authority (DEWA), inaugurated a 1MW photovoltaic solar plant at the food processing unit of Emirates Modern Poultry Co. (Al Rawdah) at Al Marmum in Dubai.

Abdalla Sultan Alowais, Chairman of Al Rawdah, Abdulla Al Qubaisi, Vice Chairman of Al Rawdah; Dr Rashid Dafalla, CEO Al Rawdah, Waleed Salman, Executive Vice President of Business Development & Excellence at DEWA, Dr Yousef Al Akraf, Executive Vice President of Business Support & Human Resources at DEWA, and staff from DEWA and Al Rawdah, were present at the inauguration.

The electricity from this plant will power the food processing unit at Emirates Modern Poultry. This is part of the Shams Dubai initative to encourage building owners to install photovoltaic panels to generate electricity from solar power and connect the systems to DEWA's grid.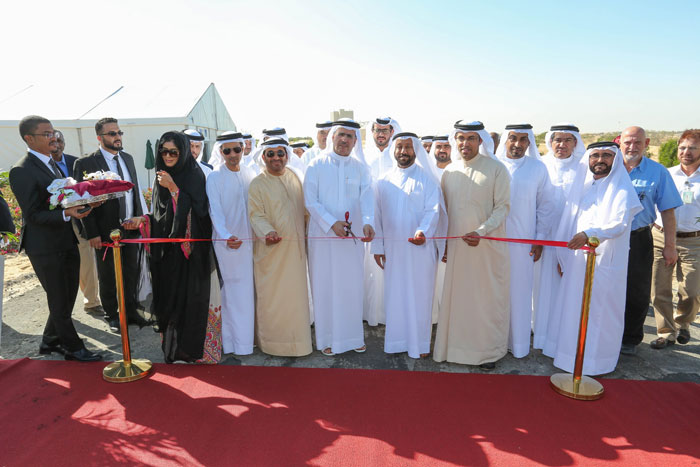 "I congratulate Emirates Modern Poultry on this important achievement, which supports our shared vision to protect the environment and reduce the carbon footprint. It also supports our close cooperation with the private sector to increase the share of clean energy as part of the Shams Dubai initiative. DEWA launched Shams Dubai to support the Smart Dubai initiative launched by His Highness Sheikh Mohammed bin Rashid Al Maktoum, Vice President and Prime Minister of the UAE and Ruler of Dubai, to make Dubai the smartest and happiest city in the world," said Al Tayer.

"Through its strategies and investments in clean and renewable energy, the UAE is pioneering global efforts in this sector. At DEWA, we support these efforts by promoting sustainability and transforming Dubai into a global hub for clean energy and green economy. This supports the Dubai Clean Energy Strategy 2050 to make Dubai the city with the lowest carbon footprint in the world, and provide 75% of Dubai's total power output from clean energy by 2050," added Al Tayer.

"We value the efforts of Emirates Modern Poultry to promote Dubai's position as a pioneering city in developing the renewable and alternative energy sector, and innovating modern techniques to enhance energy efficiency, rationalise the use of natural resources, and find alternative solutions for conventional energy sources. This is done by involving society in sustainable development. I praise their efforts and commitment to achieve sustainability, reduce carbon emissions, and protect the environment and our natural resources to ensure a brighter future for generations to come," concluded Al Tayer.

"We are proud to be the first Poultry Farm in the UAE to move to Solar Power. Minimising our environmental footprint has always been a top priority for the company. Being UAE's home-grown company, our vision has been aligned with that of our leaders. The initiative to turn to solar power is in line with the UAE's vision of moving towards a sustainable future by adopting renewable and clean energy sources. To us, this is just the beginning to a transformative journey into the future," said Alowais.

Since it was launched, Shams Dubai has achieved remarkable success. By end of November 2017, DEWA has connected 529 solar systems in Dubai with a total capacity of 19.6MW and is looking to increase this to cover all buildings in Dubai by 2030.