About Wiring Accessories
Wiring Accessories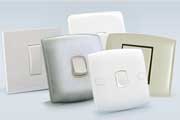 alfanar brings the best of international quality to your home, office and leisure environments. Its range of wiring accessories encompasses futuristic design and cutting-edge technology. Ease in installation has also been considered while developing its products.
The wiring accessories are designed with graceful curves, that blend well with any kind of interior, are a significant departure from the boxed-in looks of other products available in the market. alfanar's elegant yet simple products set new standards in the designing of wiring accessories.
alfanar's state-of-the-art research department and ultramodern manufacturing facility enable the company to pursue its passion for quality. Each of alfanar's products is subjected to stringent quality tests.
alfanar's team of marketing professionals, supported by a widespread network of dealers, is committed to diligently providing its products and services to the valued customers.
Services:

25 Years Warranty and Free Replacement.
High Quality
Aesthetic look
Standard Sizes
Type Tested
Qualified Materials
Quality Marks Provided
Competitive Price
Continuous Customer Supporting
Safety
Meet all Customers Requirements
Varieties in Shapes and Colors
Varieties in Voltage and Amperage
Source: http:
26 00 00 - Electrical
26 27 00 - Low-Voltage Distribution Equipment