Aluminium floorings, the latest trend from the Salone del Mobile
An innovative flooring solution devised by the Italian interior design brand EnjoyALL merges extruded aluminium with tinged resin. EnjoyFLOOR highlights the modern and sharp feel of metal through unique and refined design, allowing for the utmost customizability. The exclusive product line will be presented at the Middle East Covering exposition at the Dubai World Trade Centre. May 23-26, 2016, S E47.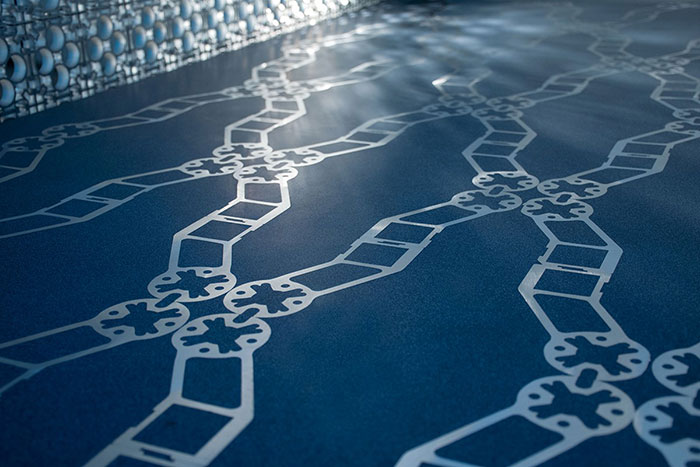 Several times in history, the Italians have revolutionized the way we look at our world. Now, an Italian company might change the way we look at the floors beneath our feet. EnjoyFLOOR, the main product line of the Italian interior design brand EnjoyALL, employs extruded aluminium to introduce a new and groundbreaking concept of flooring: an uninterrupted one-piece floor, seamless and extremely customizable.

EnjoyALL will be presenting EnjoyFLOOR at the Middle East Covering exposition at the Dubai World Trade Centre on May 23-26, 2016 (S E47). The aim is to bring to the Middle East public an interior design solution embodying the staples of Italian design: innovation, uniqueness, style and elegance. EnjoyFLOOR blends together aluminium and tinged resins to create extremely versatile flooring solutions and to give a special feel to each setting.

EnjoyFLOOR offers endless possibilities of choice and customization, ranging from the color nuances and combinations of the resins to a nearly endless range of aluminium shapes. Customization, though, is not just limited to the available colors, sizes and shapes: EnjoyFLOOR allows customers, architects and designers to create new and exclusive solutions from scratch, specifically designed for their setting. Surpassing the boundary of modular designs and enabling them to devise the floor as a one-piece object, tailor-made and structurally integrated with the room.

Fully exploiting the innovative aesthetical and technological aspects of aluminium, its shine and its sharpness, EnjoyFLOOR can enrich any setting and enhance lighting solutions. The heat-transmittance properties of the material can also enhance the thermal performances of a building and contribuite to obtain the international LEED – The Leadership in Energy and Environmental Design certification, a veritable badge of quality, foresight and respect for men and the environment.

EnjoyALL interior design solutions were presented last April at the 2016 Salone del Mobile in Milan. The whole range of products highlights the versatility of aluminium and the commitment of the brand to the research and development of aesthetic and functional trends. All solutions underline the elegance and prestige of metal design, one of the emerging interior design trends, finding the ideal common ground between material innovation and the traditional Italian craft quality.