An Imposing and Eclectic Penthouse
This eclectic residence it's a reconstruction project led by the interior designer Lara German, that took more than a year to be accepted legally, but the result couldn't be more surprisingly amazing. Every corner of this bold home has an art piece that tells a story. It has a lot of unique items, ranging from marble counter-tops inlaid with semiprecious stones to furniture items designed specifically for this project,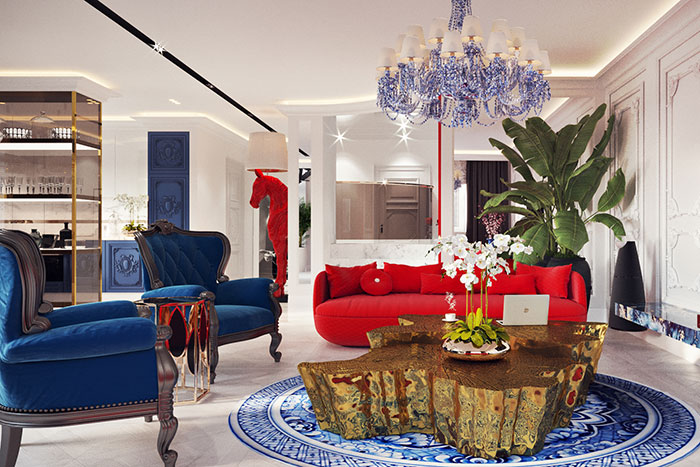 The idea was to combine two apartments located one above other. It was necessary to make a design opening under the staircase, and to position the staircase in such a way that it was correctly entered into the space, occupying a minimum of usable area. The decision came bold and original and became one of the most difficult yet most beloved projects from Lara German.

The kitchen design set mixes classic and contemporary concepts, blue and white are the main colors on this space that gives a peacefully feeling and luxurious style at the same time.

The incredible living room is the center of the art. From a red horse lamp coming from a wall to a nature inspired gold center table, this home division sparkles joy. This eclectic mix of the disparate gives to this room and expensive and sleek aesthetic. The ceiling and the walls are detailed with classic ornaments and a sumptuous chandelier that gives a rich feeling to the ambience. The design projects it's full of statement pieces from several luxury brands, such as the Eden Center Table, one of the most well-know piece from Boca do Lobo, which uses the highest quality materials and textures, giving it the resemblance of the tree in which it was named and producing shapes that create a cosmopolitan luxury environment.

The other living room of the house it's a more serene one with neutral tones and with a lot less lights, the Lapiaz Sideboard from Boca do Lobo matches perfectly with the hues of the early night sky and the furniture's delicate light tones, becoming a pleasing harmony place.

This interior design project is an incredible fusion of luxury and eclectic style. A unique and special home that defines the boundaries of boldness in an extraordinary way.

@bocadolobo #bocadolobo