Aquno Select M81 - Wellness for Fruit and Vegetables
With its new Aquno Select M81 kitchen faucet, hansgrohe presents a new integrated system which comprises unconventional product design paired with innovative spray technology and customized accessories — for aspiring chefs and food lovers for whom cooking is more than just preparing food.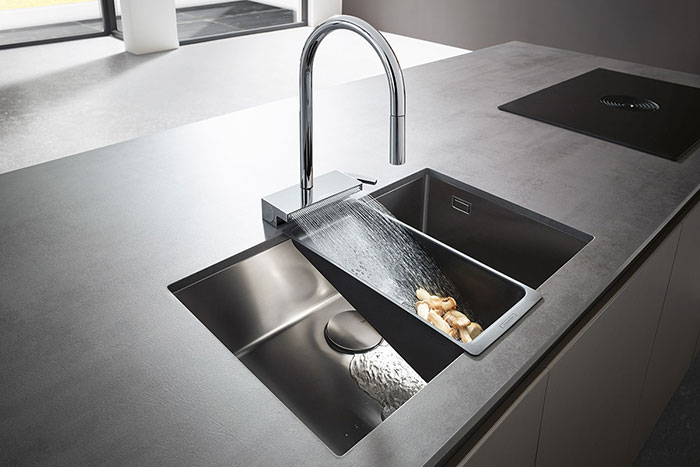 The Aquno integrated system - named after "aqua" and "unit"- makes it possible to experience a totally new kind of interaction with water in the kitchen; and thanks to its smart integrated concept, it features spray modes and functions suitable for any task at hand. For the first time ever, the laminar and shower spray modes in the pull-down spray are complemented by a third, flat and particularly gentle spray mode, which flows from the integrated base unit.

The SatinFlow spray mode consists of many individual jets that form a soft and yet dense laminar flow. The spray is splash-free and ensures that water flows evenly over food, hands and objects. Delicate produce such as fruit, vegetables and salad greens love this faucet, as do demanding kitchen enthusiasts.

All-in-One for Efficient Workflow at the Sink
The Aquno Select M81 kitchen faucet impresses with its particularly flat and gentle SatinFlow spray mode, an absolute novelty in the kitchen industry. The base unit that makes up the lower part of the faucet functions as a "shower" for fruit and vegetables: Its spout is long and narrow, and produces a wide flow of water.
Thanks to a novel arrangement and number of spray nozzles, it also ensures a noticeably softer distribution of droplets. This means that foods can be washed thoroughly and much more gently. With the multifunctional sieve, which is included in the set and designed to fit perfectly under the wide spray, the faucet system ensures an easy and efficient workflow at the sink.
Even larger objects, such as baking sheets, can be washed with the wide spout, as it completely covers them with water; and SatinFlow is very resource-saving as water consumption is only four liters per minute. The laminar jet of the pull-down spray has a flow rate of seven liters per minute, making it possible to fill pots more quickly and rinse hands fast without wasting water; and due to its drop shape, the spray mode is ideal for rinsing more robust foods and washing dishes between uses.
The pull-down spray's operating range of up to 76 centimeters also provides freedom of movement, enabling the faucet to be used away from the sink. This makes it easy, for instance, to fill water into a coffee machine positioned farther away.
Multitasking with Water
The faucet's ease of operation is also impressive due to its intelligent design and easy-to-clean surfaces. The single lever handle on the right of the faucet base and the Select button on the left give users convenient and intuitive control of all of the M81's features.
Its futuristic and extravagant design, and choice of basic shapes make Aquno Select M81 a real eye-catcher that blends into any individual and sophisticated kitchen environment. One variant is linear with an L-shaped spout. The angled spout pipe highlights the precise linear design of the overall product and features a pull-down function with a laminar jet.
Another variant of the M81 features a striking high-arc spout which accentuates the monolithic synergy of rectangular and circular shapes. The pull-down spray head has adjustable jet types, enabling flexible use of water.
@Hansgrohe_PR #Hansgrohe_PR #hansgrohe #Aquno