Are You Still Paying Too Much for Your CAD Software – Here Is Why You Should Choose BricsCAD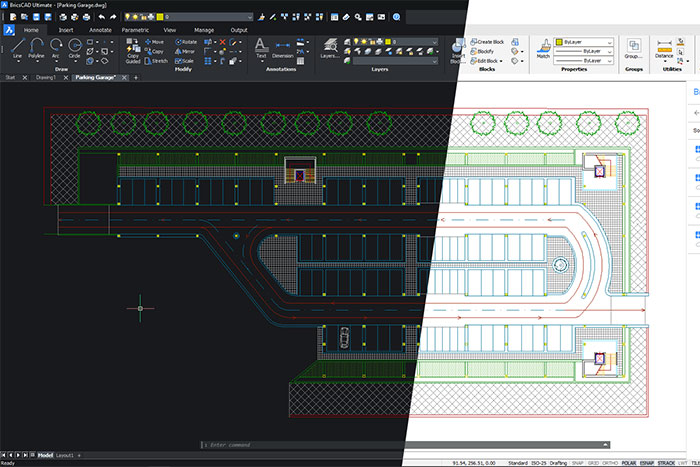 Why BricsCAD?
Quick Installation
The full installation file for all editions is only around 375 MB and is quick to install on the computer. All BricsCAD editions are delivered in this single installer file and product levels are enabled by individual license keys.

Modern and Fast
BricsCAD is a modern and fast applications that stores the data in an optimised data structure. Often you find that opening larger DWG files in BricsCAD that originates from AutoCAD, then saving them again, will create a smaller DWG file. The file contains the same data, but it is only more optimised for faster access.

DWG File Format
BricsCAD uses the latest AutoCAD DWG 2018 format and can save in older AutoCAD formats from Release 9 onwards.

No Extra Training Needed
Users trained on AutoCAD can immediately start using BricsCAD, with no extra training. With the BricsCAD Express Tools installed, the users can continue using their familiar AutoCAD keyboard shortcut commands.

Productivity Tools for Faster Design
BricsCAD has specially developed functionality and productivity tools speeding up the design workflow.

The Quad cursor menu, is an alternative to the command line or toolbars, offering a rich set of tools while requiring fewer clicks, without cluttering the screen with loads of grip-glyphs. The rollover tips are a limited set of properties displayed when selecting or hovering over an entity.

Full Support for Applications
You can customize BricsCAD by adding custom programs written in any of several programming languages that run within BricsCAD, including LISP, C/C++, VB/VBA/VB.NET. BricsCAD offers several API's : COM, BRX, TX, and .NET.

With BricsCAD, you can run many programs originally created for use with AutoCAD. We also provide support where applications need to be modified for BricsCAD.

https://www.bricsys.com/bricscad/help/en_US/CurVer/DevRef/

Third-Party Applications
Bricsys work with more than 1,500 application developers making applications working with BricsCAD as the CAD engine. Hundreds of applications for specific industries or tasks, are available in the application store. Many of the applications originally developed for AutoCAD are also available for BricsCAD.

https://www.bricsys.com/applications/

Help Centre and Tutorial Videos
From the online Help Centre, you find useful information about different aspect of using BricsCAD, and tutorial videos.

https://help.bricsys.com/hc/en-us

eBooks
You have free ebooks with topics ranging from customisation to implementation, with 'BricsCAD for AutoCAD users' being the most popular.

https://campaigns.bricsys.com/switching_autocad_to_bricscad

International Network and Premium Support
Being part of the Hexagon Technology Group with more than 20,000 staff, Bricsys have sales points and support centre around the world, giving the highest level of support to their customers.

Through the online support system, you can file a support request and get replies from technology specific support analysts.

https://www.bricsys.com/en-intl/support/

Alternative Licensing Options
A BricsCAD license works on Windows, Mac and Linux. Perpetual licenses for single user and network licenses can be bought with an affordable yearly support and upgrade package. This way, you make sure you have the latest functionality and are compliant with the frequent OS updates.

If you want to rent BricsCAD on a yearly agreement, we have that as well. It is your choice.

No Geographical Restrictions
The BricsCAD license keys work anywhere in the world. No extra charges or geographical restrictions when you buy BricsCAD licenses and later want to use it in another country.

Upgrade of Licenses
The BricsCAD range of editions consist of software for 2D Drafting, 3D Modelling, Building Information Modelling (BIM) and Mechanical Design. You can at any time upgrade your licenses to a higher level with more functionality.

Economic Benefits
In addition to the technical capabilities, we also have something to give on the economical side. Compared to the prominent CAD software in the market, forcing you on a rental only agreement, BricsCAD perpetual licensing with yearly maintenance and upgrade, will save you over 60% in a period of three years, and even more over a longer time period.

Free BricsCAD Trial
To test out BricsCAD, you can download a trial that will run for 30 days. The trial is a full version of BricsCAD with 2D Drafting, 3D Modelling, Building Information Modelling (BIM) and Mechanical Design. If you need to test BricsCAD for an extended period, please get in touch.
@Bricsys #Bricsys #BricsCAD #CAD #DWG #BIM #BIM4DWG
Website:
http://www.bricsys.com