Ariston Commits to UN Sustainability Goals
Ariston Middle East, the leading brand of water heaters in the GCC for over 40 years and part of the Ariston Thermo Group is committed to contribute to the Group's sustainable growth strategy. The Group targets saving 3,400,000 tons of CO2 equivalent by 2022 through innovative technologies and Ariston as a leading brand in the Group is a major contributor to the achievement of this goal.

Ariston ME has already contributed to Expo2020 Dubai's sustainability pavilion, Terra with solar panels to produce 4GWh of electricity per year and will also produce up to 22.000 l of water per day, extracted from atmospheric humidity and by recycling grey water. Additionally, the completion of many solar energy projects in UAE, Saudi Arabia, Kuwait and the wider MENA region reinforces their energy efficient product offering across the geography.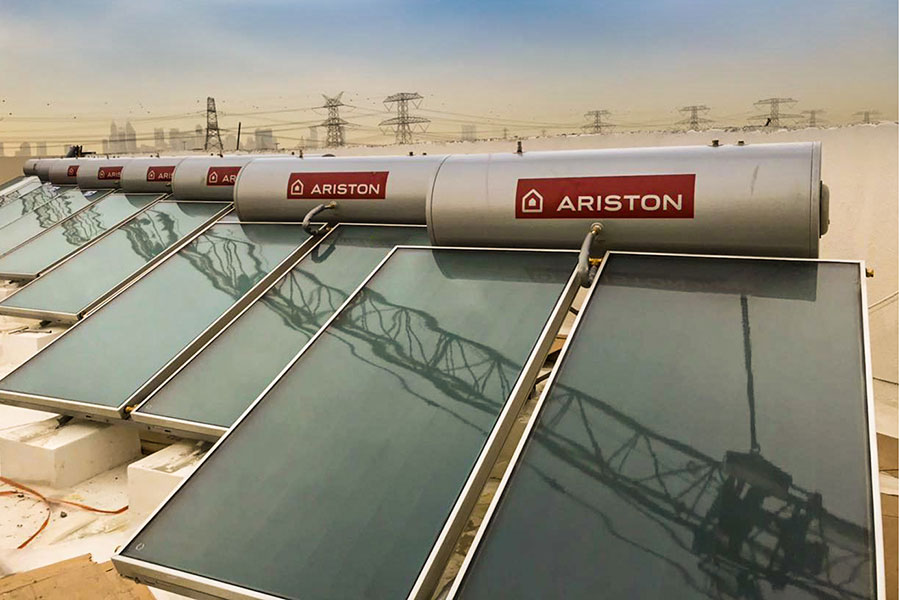 "Our purpose is to provide everyone, in every corner of the world, with high-quality heating and water heating solutions, while protecting the environment. To this end, we have placed energy efficiency solutions and technologies using renewable sources at the center of our sustainable growth strategy, thus contributing to the sustainability development goals endorsed by the General Assembly of the United Nations. Despite difficulties that arose in 2020 we increased our investment in developing efficient and sustainable products, solutions and processes to 29%, keeping to our commitment of making a decisive contribution to reducing energy consumption and conserving the environment." says, Alberto Torner, Head of Middle East, Turkey and Caucasus.

The commitment to sustainability is reflected in the projects undertaken by Ariston ME in the region. In Dubai there are several achievements in diverse building structures. Among the most prestigious projects to date is the sustainability pavilion at Dubai Expo 2020.

Terra is one of three thematic pavilions at the Expo2020 Dubai. It will produce electricity through solar panels targeting a net zero energy status. It will also produce water as a plan to achieve net zero water status. Products installed by Ariston ME have produced a hybrid solution that will reduce electricity consumption by 25% compared to traditional electric heating.

In the hospitality industry, a 4-star hotel in Dubai, Courtyard by Marriott, Al Barsha with 200 guest rooms, a swimming pool and a fitness center was offered a unique solution. Free solar energy generated by installed collectors to pre-heat the water needed resulted in a hybrid system that assures optimum savings in energy. Another Dubai hotel - The Rove Healthcare City Hotel had an energy saving solution well suited to its own requirement.

Other projects in Dubai feature the Golf Link villas – an upmarket residential complex by Emaar at one end of the spectrum and staff accommodation in Dubai South at the other.

Elsewhere in the GCC, the offices of the Ministry of Interior in Jeddah, Saudi Arabia had a requirement of a solar system able to supply 3.257 l/day at 60°C at solar contribution of minimum 60% which Ariston was able to meet. The University City in Kuwait has also benefited from an Ariston solution that delivered minimum space usage for a high requirement.

Ariston ME has completed several high-profile projects recently including many well-known buildings and structures such as Double Tree Resort & Spa by Hilton, Mohammad Bin Rashid City show village, La Casa, a community of 253 villas by Emaar, PETROFAC Tower 2, Garhoud Private Hospital and Al Warqa School. Most new projects have installed solar power or a hybrid to save energy. These projects are a mix of educational institutions, hospitals, hotels, villas, residential buildings, and staff accommodation.

Ariston heat Pumps are also reaching new levels of efficiency by using the heat in the air as a renewable source to achieve maximum thermal comfort and reduce energy consumption. Projects such as Marriott Hotel - Jaddaf, Gems Heritage School and Fujeirah Business Centre have leveraged this option.

"We are proud of our association with the development of the GCC over the past four decades. We have offices as well as our own service centers in Dubai and Saudi Arabia to ensure that the reputation we have earned is maintained for decades to come. Last year the Ariston Thermo Group celebrated its 90th anniversary and we are extremely proud to look at the future with such an important background, tradition and long-lasting values. We continue to undertake projects that harness solar energy thereby committing to the tenets of sustainability that our company has embraced globally." Torner added.

#ariston #aristonwaterheater
Website:
https://www.ariston.com/en-me/