Ariston Middle East Applies Hybrid Energy Solutions in Jeddah and Riyadh Projects
Ariston Middle East, the leading brand of water heaters in the GCC for over 40 years and part of the Ariston Thermo Group is committed to contribute to the Group's sustainable growth strategy. The Group targets saving 3,400,000 tons of CO2 equivalent by 2022 through innovative technologies and the Group's main brand Ariston is a major contributor to the achievement of this goal.

Ariston ME has contributed its expertise in solar energy and hybrid solutions to some prestigious projects in Saudi Arabia, the Ministry of Interior in Jeddah being one of them. The main building of the Ministry of Interior office of Saudi Arabia which has multiple offices and bathrooms has hot water requirement. Ariston has installed Solar systems which are able to supply 3.257 l/day at 60°C with a solar contribution of minimum 60%. The British School in Riyadh has also opted for installation of solar panels to generate hot water leveraging the option to tap sustainable resources and reduce energy cost at the same time.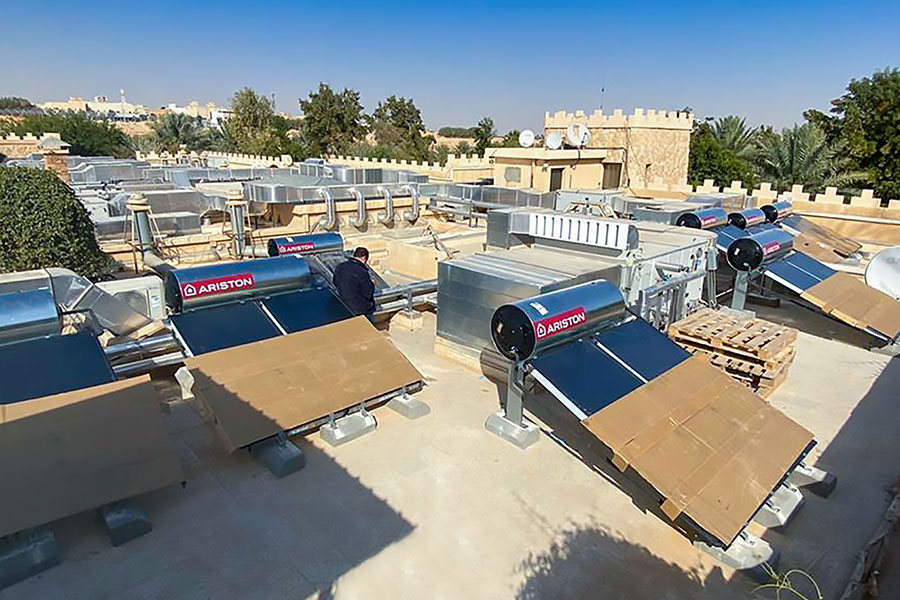 "Our purpose is to provide everyone, in every corner of the world, with high-quality heating and water heating solutions, while protecting the environment. To this end, we have placed energy efficiency solutions and technologies using renewable sources at the center of our sustainable growth strategy, thus contributing to the sustainability development goals endorsed by the General Assembly of the United Nations. Despite difficulties that arose in 2020 we increased our investment in developing efficient and sustainable products, solutions and processes to 29%, keeping to our commitment of making a decisive contribution to reducing energy consumption and conserving the environment." says, Alberto Torner, Head of Middle East, Turkey and Caucasus.

Ariston's lead positioning in KSA is boosted by its engineering capability, expertise and knowledge developed over 40 years in the region and its ability to offer end-to-end solutions to customers.

"Ariston is among the trusted brands of the world with a heritage of 90 years and more than four decades in Saudi Arabia. Our leadership position can be attributed to the superior product quality as well as the full package solutions and 360 degree support we offer. Engineering expertise and knowledge of each customer's requirement enables us to remain competitive. We have equipped hotels, residential and commercial establishments across the kingdom with water heating solutions that are cost-efficient and at the same time offer assurance of quality." says, Hazem Al Khatib, Country Manager, KSA.

As experts in the domain, Ariston ME can offer economical solutions. Many projects show a higher requirement of capacity than necessary so that costs are escalated. In such cases, engineers at Ariston ME collaborate with the project consultants to refine the specifications so that customers make a saving without having to compromise and forego fitting a system from Ariston ME.

The added advantages of a full-fledged service network, top quality and the famous Italian design have secured Ariston high profile projects like Ikea, Riyadh; hotels such as the Aqua Rafal in Jeddah, Holiday Inn VOCCO Towers in Dammam, Ansar and Al Madina in Madinah.

Housing estates all over the country are also fitted with Ariston electrical heaters. Recent projects include La Palma 2, Dahiah and Smasco compounds in Riyadh, Dari Quraish in Jeddah and Neom engineers housing project. Other prestigious customers in the country are Prince Abdullah Al Faisal Stadium, Taif University and Tamim Farms.

"We are proud of our association with the development of the GCC over the past four decades. We have offices as well as our own service centers in Dubai and Saudi Arabia to ensure that the reputation we have earned is maintained for decades to come. Last year the Ariston Thermo Group celebrated its 90th anniversary and we are extremely proud to look at the future with such an important background, tradition and long-lasting values. We continue to undertake projects that harness solar energy thereby committing to the tenets of sustainability that our company has embraced globally while offering the region the world's leading brand of electric water heaters." Torner added.

#ariston #aristonwaterheater
Website:
https://www.ariston.com/sa/