Asian Fibres to Set Up Single Largest Installation for Regenerated Polyester Staple Fibre in the MENA Region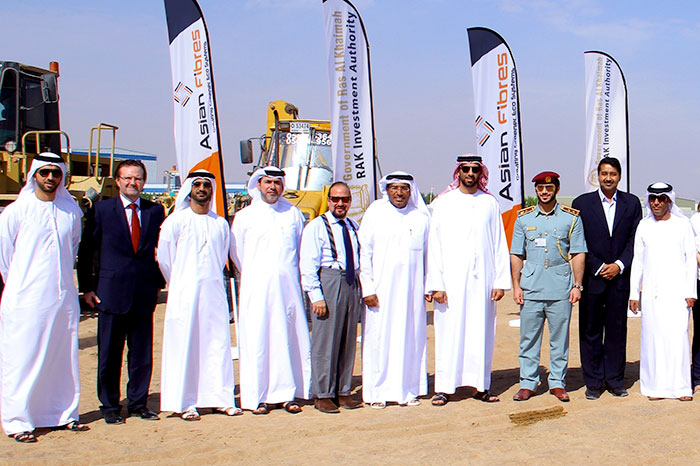 At a ground-breaking ceremony today at Ras Al Khaimah Investment Authority's (RAKIA) Al Ghail Industrial Park, Asian Fibres LLC unveiled its plan for the single largest production facility for Regenerated Polyester Staple Fibre (RPSF) in the MENA region. The ceremony was attended by HE Sheikh Mohammed Bin Kayed, Chairman of Economic Department; Dr. Saif Al Ghais, Executive Director of EPDA; Rino Sabatino, CEO of RAKIA; Abubakr Ahmad, COO of Asian Investments Group, and Suryamani Singh, Asian Fibres' Director of Operations, as well as other high-level executives from RAKIA, RAK Immigration and Civil Defence.

Asian Fibres will occupy 860,000 square feet, and the production facility, currently under construction, is expected to be fully operational by May next year. In order to support the requirements at its new plant, Asian Fibres intends to hire up to 600 labourers and professionals. The acquisition of Asian Fibres as a tenant underlines RAKIA's continued ability to attract foreign direct investment into the emirate.

Established in 2014 as part of Asian Investments Group, Asian Fibres is the single largest green recycling project in the MENA region, manufacturing and supplying RPSF produced from post-Polyethylene terephthalate (PET) bottles. PET is commonly used in beverage, food and other liquid containers, with PET bottles accounting for a significant amount of waste in the UAE. Asian Fibres sources raw material from suppliers in the UAE who collect and sort PET bottles. At the company's new plant in Ras Al Khaimah which integrates the latest innovation and cutting edge technology in the recycling business, RPSF will be manufactured from both waste and virgin PET bottles. Boasting an initial capacity of 100 MT per day, the company's production capacity at RAKIA's Al Ghail Industrial Park is expected to double within a year.

Rino Sabatino, RAKIA's CEO, commented, "RAKIA is delighted that Asian Fibres has chosen to set up its production facility in our Al Ghail Industrial Park. Today's announcement follows a land lease deal for 750,000 square feet with a major Indian building solutions company last week and underscores RAKIA's ability to attract leading manufacturers to its industrial parks. We are committed to providing a pro-business environment, regulatory stability and robust infrastructure – these factors have been instrumental in driving foreign direct investment to the emirate."

Abubakr Ahmad, Group Chief Operating Officer, Asian Investments Group, said, "Asian Fibres is committed to serving the community by reusing and transforming waste products, thus giving them a new lease of life. Currently, PET bottles are collected by municipality contractors, then crushed and exported for treatment. Asian Fibres offers the capability to treat PET waste entirely and locally, ensuring that we benefit the environment, community and the economy of the UAE."

"From the onset, RAKIA has been extremely efficient and helpful with every aspect of establishing our business in the UAE. We are pleased that construction on our production plant has commenced and anticipate that we will be fully operational in less than six months," added Ahmad.

RAKIA continues to gain momentum in the drive to attract foreign direct investment to the emirate and garner global recognition. The London-based International Finance Magazine recently named RAKIA the Best Free Trade Zone in the GCC for 2014.