Atkins celebrates its 10-year anniversary in Saudi Arabia
This week, Atkins celebrated its 10-year anniversary in the Kingdom of Saudi Arabia. An official ceremony was held at the British embassy in Riyadh to mark this occasion, with the attendance of Her Majesty's Ambassador to Saudi Arabia, Mr. Simon Collis; Philip Hoare, President of Atkins, in addition to the senior leadership team of Atkins, Faithful+Gould, Atkins Acuity, key clients and dignitaries.

Her Majesty's Ambassador to Saudi Arabia, Mr. Simon Collis, commented: "I congratulate Atkins on their first 10 years in Saudi Arabia. I know Atkins to be a world class company from working with them across the region over many years. Their values, capabilities and commitment put them in excellent position to partner with a wide range of clients in Saudi Arabia to design and deliver projects aligned with Vision 2030. I am excited to see what Atkins will achieve over the next 10 years."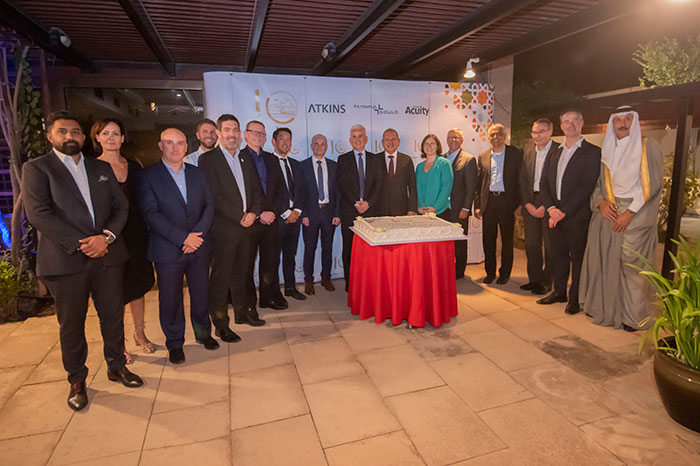 "With over 50 offices across six continents, Atkins has established a stellar reputation as one of the most respected design, engineering and project management consultancies in the world," said Philip Hoare, President of Atkins. "For more than half a century, we have played a pivotal role in the transformation journey of the Middle East region, and the 10-year anniversary in the Kingdom is a testament to our continuous commitment to supporting its sustainable growth through our world-class expertise, market knowledge and innovative solutions that bring our clients' vision to life."

With over 50 years' presence and a number of iconic projects in the Middle East region, Atkins officially opened its first Saudi office in Riyadh in 2010. Earlier this year, Atkins relaunched its Riyadh office with an expanded 1500sqm facility that boosts the company's innovative design and engineering approach. The company also has offices in Jeddah and Al Khobar that provide end-to-end advisory, design and engineering and project management services under the Atkins Acuity, Atkins and Faithful+Gould brands.

Working together as a blended team of international and regional expertise, Atkins helped shape cutting edge ideas in the Kingdom; from large infrastructure projects to mixed-use master developments, all the way to providing integrated project and programme management consultancy for lifestyle destinations. Riyadh Metro, King Abdulaziz International Airport, and King Abdullah Financial District are among some of the flagship projects where Atkins is proudly supporting the Kingdom's Vision 2030 and its economic diversification agenda.

Supporting Saudization, Atkins has built a diverse workforce in the Kingdom to empower local capabilities and promote knowledge exchange across a wide range of expertise and geographies. Today, more than 85 Saudi nationals are part of Atkins local team, and 15 Saudi graduates are enrolled in its 2-year graduate development program that helps early career professionals master essential technical skills through on-the-job training and planned rotations within business various operations.
@atkinsglobal #atkinsglobal