AUS presents seven innovative solutions to real-world challenges at the UAE Innovation Week
American University of Sharjah (AUS) students and faculty are presenting seven high-quality projects that provide innovative solutions to real-world challenges at the 2018 Innovation Week currently ongoing at the Sharjah Centre for Astronomy and Space Sciences. The AUS projects are presented in the Innovation and Entrepreneurship Exhibition, held as part of the activities of the UAE Innovation Month.

Speaking on the university's participation in the exhibition, Dr. Mohamed El-Tarhuni, AUS Vice Provost for Graduate Studies, said: "We are very proud of the high-quality projects presented by AUS students and faculty at the 2018 Innovation Week exhibition. The projects provide innovative solutions to real-world challenges, demonstrating AUS's commitment to producing research that is relevant to society and supports the UAE's mission in moving towards a knowledge-based economy."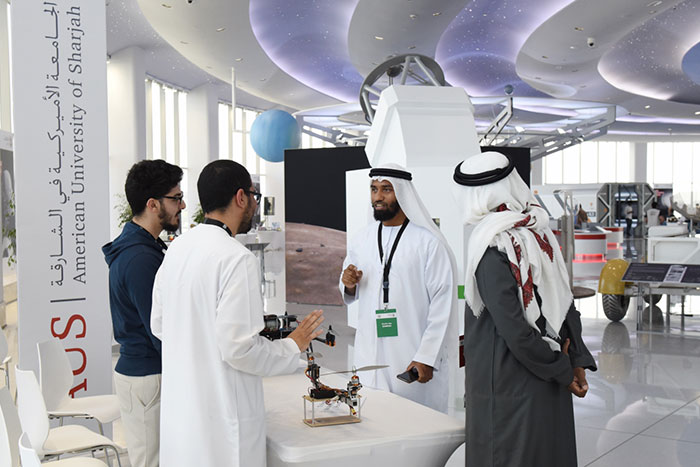 The projects developed at AUS include the following:
The In-Pipe Inspection Robot was the winning project at the UAE AI and Robotics for Good Award. It focuses on problems the oil and gas industry faces as its pipelines become susceptible to leaks and failures. The outcomes of the project have the potential to positively impact the UAE's economy through helping to ensure speedy, efficient and reliable pipelines. The team members working on this project were Dr. Mamoun Abdel-Hafez, Associate Professor and Head of the Department of Mechanical Engineering; Dr. Shayok Mukhopadhyay, Assistant Professor of Electrical Engineering; Dr. Mohammad Jaradat, Associate Professor of Mechanical Engineering; Wasim Al-Masri, Laboratory Instructor; and Danial Waleed, an AUS graduate student in the mechatronics engineering program


Deep Learning Based Insulator Inspection with Autonomous Quadrotor is aimed to design, implement and test an autonomous control system that will enable a quadrotor to autonomously fly along a transmission line and detect location of polluted ceramic insulators based on their images. This project was developed by Dr. Ayman El-Hag, Professor of Elecetrical Engineering, and Dr. Shayok Mukhopadhyay, Assistant Professor of Electrical Engineering, and electrical engineering students Anas Muhammad and Adnan Shahpurwala.


Design of High Frequency Antenna for Common Partial Discharge Classification in Oil-Paper Insulated Systems developed by Dr. Aymman El-Hag and Dr. Nasser Qaddoumi, and electrical engineering students Maryam AlMajidi, Mustafa Jamil Assaf and Shahed Amin.


Hydrogen Powered Quadcopter is a flying drone with brilliant specifications developed by Dr. Mohammad Gadalla, Professor of Mechanical Engineering, along with his students Sultan Bin Helal, Ali Rashid and John Mempin (Technician).


Four Probe Variable Temperature Resistance Measurements for Gas Sensing Applications is a cost-effective gas detection unit for gas sensing applications. This measurement unit uses separate pairs of current carrying and voltage sensing probes. The project was developed by Dr. Mehmet Egilmez from the Department of Physics and student M. Said M. Alghabra.


Holo|morph Redux is a suspended, undulating structure composed of 168 identical base units. Undulations are possible through customized connectors designed using parametric modelling. It was developed by Gregory Spaw from the AUS College of Architecture, Art and Design and SHO Architecture; Lee-Su Huang from the University of Florida; Jakob Marsico, Project Consultant from Carnegie Mellon University; Piotr Pasierbiński and Ewa Sroczynska, Project Assistants; and AUS student assistants Basil Al Taher, Mark Shehata, Saad Boujan, Mariam Elashwal, Adomas Ramzi Zeineldin and Abdukarim Umarov.


Smile is a project developed by Dr. Usman Tariq from the Department of Electrical Engineering as a demo for a facial expression recognition that detects a face in the scene and tracks facial expressions.
UAE Innovation Month is one of the largest innovation festivals in the world and a consolidated effort by government, the private sector and individuals to help create a culture of innovation in the UAE.