Axalta reveals sustainable corrosion technology solutions for the oil and gas sector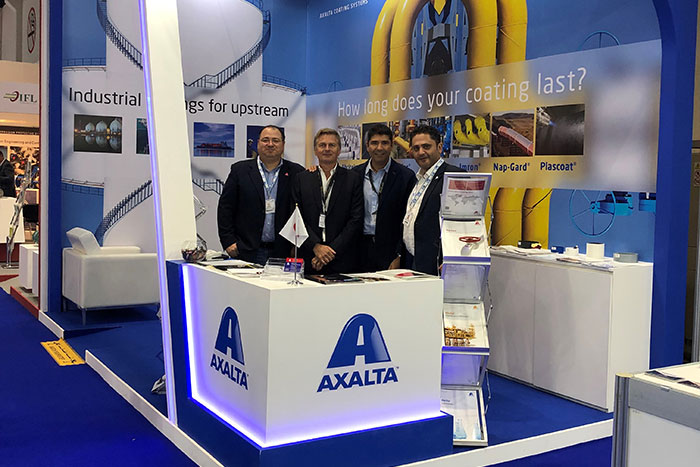 Axalta, a leading global supplier of liquid and powder coatings, celebrated a successful week at ADIPEC – Abu Dhabi International Petroleum Exhibition and Conference – where global visitors were given the chance to discover the company's market leading range of corrosion protection technologies.

ADIPEC – the annual gathering of the oil and gas industry in UAE capital city Abu Dhabi – is now among the top three energy events globally – with Axalta taking advantage of the event for the second year in a row.

Axalta Global Director Oil & Gas Alfredo Villalobos says: "Axalta consistently launches new products and services to keep our customers competitive and at the cutting edge of technology. Axalta's goal is to build on our regional presence in the Middle East, promoting our innovative range of corrosion protection offerings. ADIPEC presents a great opportunity to share our 150 years of knowledge, while learning more about the market and its current needs.

"At ADIPEC this year, we highlighted our top technologies and product solutions for corrosion protection, which are a great match for the oil and gas, water and power generation, marine, and transportation industries."

Visitors to the Axalta stand could see first-hand Axalta products such as Nap Gard for the pipeline industry, Plascoat for field joint coating, Abcite for water and off-shore platforms, Imron for color retention and weathering, Corlar for anti-corrosion primers, Acothane for liquid poly urethane application and Corroless for a variety of corrosion inhibitors.

While the ADIPEC week focus was squarely on meeting the rigorous demands of the oil and gas sector's anti-corrosion needs, Axalta's portfolio of products are suitable for a wide-array of applications.

"It is extremely useful to meet our growing Middle East customer base face-to-face, to learn more about their needs and requirements. We garnered a great deal of interest in our industry-specific product range, and love looking into creative ways to support any customer," adds Villalobos.

"Most of our products are available globally, but we are particularly interested in seeing how our vast portfolio of products and technologies can benefit businesses in the Middle East," he added.

Axalta opened its first dedicated regional office in Dubai's Jebel Ali Free Zone Authority in 2016. Through its product research and development division, the company invests approximately four per cent of annual sales revenue into technology development. The company has a strong sustainability vision, backed by a wide range of environmentally-responsible coating systems which help customers improve their environmental impact.