AXOR Edge and AXOR My Edition Satisfy the Desire for Uniqueness in Design
Around 13 years after the first collection with the French designer Jean-Marie Massaud, AXOR introduced AXOR Edge earlier this year at ISH 2019 – a luxurious symbiosis of geometrical bodies and an ultra-precise manufacturing method.

The collection transcends boundaries in aesthetics and technology: asymmetrically combined cubes yield an impressive gem. With a diamond manufacturing process, ultraprecise edges and plains result.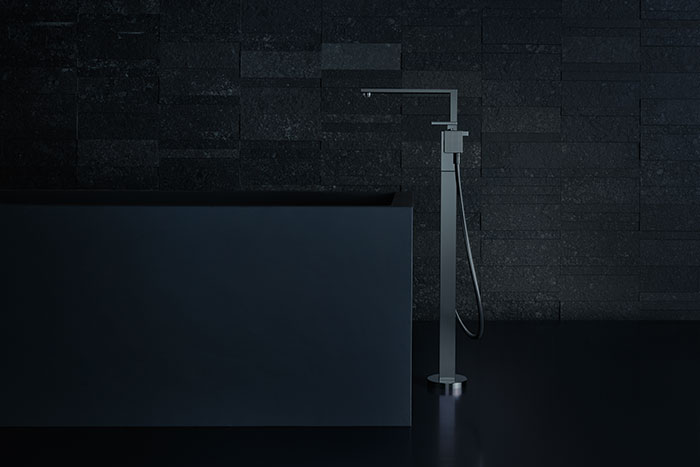 Partially refined with a fine texture and personalizable with a selection of AXOR FinishPlus polished surfaces, AXOR Edge is available for the washbasin, the bathtub, the bidet, and with thermostat modules for the shower.

AXOR Edge is massive and delicate all at once: symmetry of plains and edges asymmetrically combined. Partially enriched with a fine texture, the three-dimensional faucet is a new kind of haptic experience with a maximum of luster and radiance. For those who prefer a more minimalistic appearance, AXOR Edge is also available without a partial texturing of the surface.

Personal refinement is available through seven polished AXOR FinishPlus surface colors: from Polished Gold-Optic to Polished Black Chrome. Manufactured at the highest technological levels with PVD (Physical Vapour Deposition) in the vacuum chambers of the AXOR production plant. Hightech that lends the surface power of resistance and longevity. But most of all, unimagined radiance and a new chromaticity for luxurious bathrooms.

Especially developed for the production of AXOR Edge, a state-of-the-art diamond-cutting machine assures accurate planes and contours. The same diamond-tipped tool used in the space and laser industries, mills the chamfers at precisely 45 degrees. The delicate structural details also derive from pure precision: Diamonds facet the surface of the solid brass block down to the micron. Line by line, precision-pointed pyramids are created in this way, reflecting the interplay of light and shadow – the consummation of a precious gem.

And around 25 years after its inception, AXOR premiered its anniversary collection, AXOR MyEdition – a new dimension of personalisation – at Salone del Mobile in Milan last year. Its sleek design pushes boundaries; its customisable concept satisfies the desire for uniqueness. Its spray is also innovative: PowderRain – a sensuous experience on the skin – featured for the first time in a tap. 2019 saw the addition of a new, exclusive PVD finish for the collection: Satin Black. AXOR MyEdition is the result of the most recent collaboration with Phoenix Design, winners of the "Red Dot Design Team 2018" title.

The clean, linear design creates a large stage for personal expression and creativity. The taps consist of two product parts: body and plate. Available in four standard finishes – Chrome with mirrored glass, Chrome with black glass, Satin Black with black glass and Satin Black with Brushed Bronze – the taps can also be tailor-made to satisfy personal preferences, allowing you to combine 15 AXOR FinishPlus PVD surfaces with a selection of exclusive AXOR Signature materials and colors such as metal, wood, marble, leather, and the new Satin Black.

The 15 special AXOR FinishPlus surfaces are setting new standards. Manufactured using the most sophisticated technologies available, these brilliant finishes, from 'Polished Gold Optic' to 'Brushed Black Chrome' are all extremely robust and durable. From bespoke pieces to large-scale quantities, taps and accessories with AXOR FinishPlus surfaces all reflect personality and character. Each color is the result of a process of intensive development and finishing in PVD vacuum chambers. It is also possible to have taps and accessories customized using colors beyond the standard AXOR FinishPlus range (e.g. Satin Black), finished with special materials, or inscribed according to individual specifications. The AXOR Signature service creates distinctive, personalized pieces. With high-precision craftsmanship and cutting-edge technology, AXOR enables customers to create bathrooms that are an expression of their own unique personalities.

With the innovative PowderRain spray type, already introduced to the AXOR Showers in 2017, it provides the new collection with a silky, soft moistening of the skin. Featured for the first time in a collection of taps, PowderRain already fascinated visitors at the Milan furniture fair with its delicate feel and soothing acoustics: nearly noiseless, the droplets caress and moisten the skin without bouncing off; enveloping the user in a cocoon of water he'll never want to separate from.

The AXOR team is about to go on tour!

The regional AXOR marketing division will be hosting three special VIP events this October in Dubai, Bahrain and Lebanon. At each event they will showcase some of the gorgeous AXOR products exhibited at ISH - while answering media questions and meeting clients.


@Hansgrohe_PR #Hansgrohe_PR #hansgrohe #axor #axordesign
Categories: