BAGNODESIGN at the luxurious Pik Palace Hotel Azerbaijan
BAGNODESIGN, the home of creative bathroom solutions, are excited to announce their involvement in the newly opened Pik Palace Hotel in Azerbaijan, part of the Shahdag Mountain Resort. Hidden in the shadow of the majestic Caucasus Mountains in north-eastern Azerbaijan lies the breathtakingly beautiful Shahdag, one of the region's largest ski resorts.
Situated within the Resort is the newly opened Pik Palace Hotel, the premier luxury destination located 230 kilometres north of Baku. Set amid the spectacular mountain range, the hotel boasts 167 oversized bedrooms and suites. As the sole supplier for the project, BAGNODESIGN were responsible for supplying the luxury bathroom spaces to the highest quality standards and style specifications, which they have earned a distinct reputation for across the region. These included guest rooms, presidential suites, private apartments, and lobby, spa and pool areas.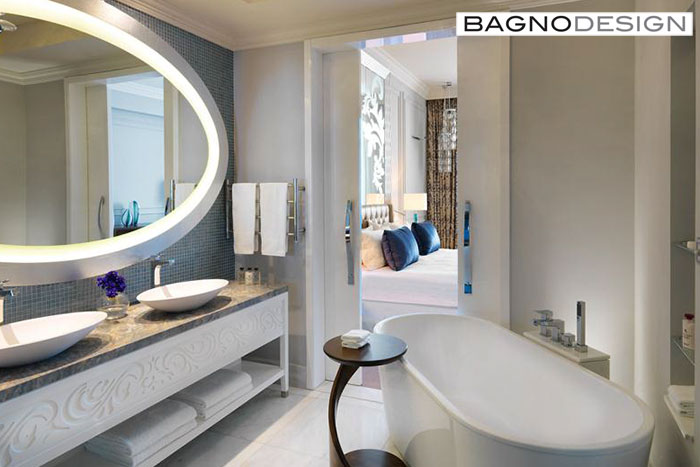 The lavishly designed guest bathrooms include BAGNOTEC Harmony stone basins, Malmo freestanding bath tubs, Kudos Cube mixers, Kudos Dream WC's, heated towel rails and a variety of stylish accessories to perfectly complement the space. BAGNOTEC Eclipse freestanding bath tubs, handmade from composite stone for a tranquil bathing experience, are featured within the presidential suites and private apartments.
Guy Wilson, Managing Director of Projects at BAGNODESIGN, commented: "The development of this project, set in such idyllic surroundings, is a huge boost for tourism in Azerbaijan and we are delighted to be involved. The broad product range in our portfolio more than catered to the design brief with our cutting-edge BAGNOTEC stone collection taking centre stage".
He went on to say, "Our product specification team were involved at the design stage to ensure the right choices were made and the volume of orders could be achieved, backed up by the BAGNODESIGN supply chain and technical support team who ensured the project's deadlines were met".
As the project develops there are plans to include a golf course, tennis courts, football pitches and basketball courts as well as an aqua park, swimming pools, spa and entertainment areas. The resort's main Plaza will provide a number of boutiques and restaurants and contain extensive underground parking facilities.
Categories:
10 28 00 - Toilet, Bath, and Laundry Accessories