BASF inaugurates regional development laboratory at Dubai Science Park
BASF's Construction Chemicals division today launched a new regional competence center, a development laboratory, at Dubai Science Park, a holistic science-focused business community in Dubai.

This Laboratory opening is fully in line with BASF Construction Chemicals' drive to expand its global R&D infrastructure for the construction industry and to reinforce the commitment to its regional customers. Seeking to ensure that its products are tailored to the challenging climatic conditions and the unique construction and infrastructure needs of the region, BASF's main R&D focus with its new development laboratory will be on technologies to improve the performance of concrete and construction materials.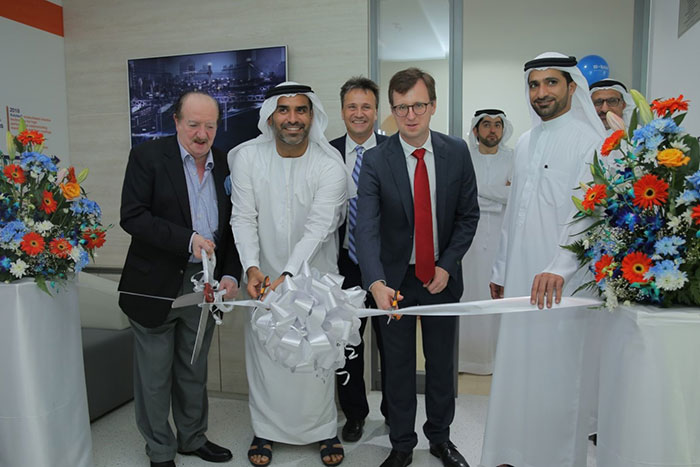 The new 6,000+ sq. ft. facility at Dubai Science Park will be one of only eight regional development laboratories, three of which are located in Europe, two in North America and two more in the Asia Pacific region. The facility comprises a reactive resin laboratory, a powder laboratory, an analytical laboratory and office spaces, featuring state-of-the-art equipment that can characterize raw materials and determine the physical properties of diverse construction materials.

The core competencies of the laboratory (cementitious binder systems, polyurethane/polyurea chemistry, epoxy resins and hardeners as well as water- based emulsion chemistry) are covering all key technologies of modern construction materials such as repair mortars, tile fixing products, protective coatings, sealants, waterproofing membranes, car park coatings and decorative flooring material.

With a currently ongoing expansion of the existing concrete admixture laboratory, the new competence center is expected to serve not just the local market, but the wider Middle East, West Asia, CIS and African region.

Dr Michael Schmidt, Head of Development, Construction Chemicals Division ORA: Middle East, West Asia, CIS and Africa, said, "The inauguration marks a significant milestone for us. This region is now part of an incredible global R&D network within BASF Construction Chemicals. The new operation in Dubai will enable us to develop and test innovative products and solutions specifically for this region much faster than before. As R&D is now closer to our regional customers we also will be able to capture their needs at a very early stage and feed them back into our R&D pipeline."

Schmidt: "Our new technologies will offer benefits across the complete lifecycle of buildings and all other types of construction, including improved health and safety standards, higher energy efficiency, faster progress and lower overall costs. Dubai Science Park has provided us with specialized facilities, as well as proximity to our suppliers and partners."

Dr Christian Geierhaas, Vice President, Construction Chemicals Middle East, West Asia, CIS & Africa, said: "BASF Group recently announced to evaluate strategic options for its Construction Chemicals division, with the goal to form a global leader of the industry. This investment in local R&D capacity is another step to reinforce BASF's continued full commitment to both its customers in the Middle East and to the construction industry. We are a leading player in the region and our new state of the art research center further cements this, together with other ongoing investments into our local production footprint in the GCC".

For his part, Marwan Abdulaziz Janahi, Managing Director of Dubai Science Park and Chairing Member of the Pharmaceuticals and Medical Equipment Taskforce of the Dubai Industrial Strategy 2030, said, "We are delighted to welcome BASF Construction Chemicals to our vibrant community of more than 350 companies and over 3,600 industry professionals. BASF Construction Chemicals enjoys an excellent reputation as a market leader, offering durable and energy efficient construction materials customized to the needs of the regional construction sector. The opening of this development laboratory marks the latest addition of top German companies to our growing community and we look forward to building successful synergies for years to come."