Benjamin Moore Launches its Chalkboard Paint in the UAE
Benjamin Moore, the leading paint, color and coatings brand, today announced the launch of its Chalkboard Paint. A global first in the industry, the paint is an acrylic topcoat that turns virtually any interior surface into a chalkboard of any color. Fun, safe and environment-friendly, the paint is now available in the United Arab Emirates.

The paint is easy to apply, dries in a matter of hours to a durable eggshell finish, is easy to clean and fully washable. It also is formulated to minimize any lingering odors, making it ideal for a child's playroom, bedroom or even the kitchen—as a message center for shopping lists and household reminders. It is available in any color and can be used on new or previously painted interior surfaces where a chalkboard finish is desired. With more than 3,300 hues in the Benjamin Moore system, and the ability for unlimited color matching, the color choices are endless.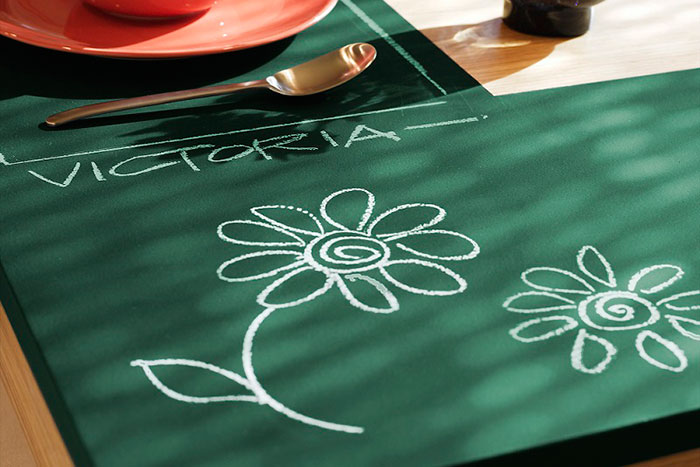 The paint helps turn any space in a home, office or public area into a writing surface paint, making it a more functional and organized place. It is ideal for anyone who works in groups, coordinates a public social place/space, or wants to provide a creative enviroment for children. It can also be used to up-cycle, adding new life to furniture or items that are no longer being used, such as turning a children's table into a writing surface, or a door into a message center.

"Our wonderful color options lets customers organize chaos, personalize, add order & planning, and create a place for expressing their creativity. The best part is that it is completely safe for people and the environment while being easy to use and maintain. The unique emotional aspect it brings allows it to add a new sense of 'home' and originality to so many family, work and public spaces. The blackboard no longer has to be black!" said Toni Snyder, Benjamin Moore Color Specialist.

"Our commitment to innovation enables us to continually bring new and differentiated propositions to our customers. We have been a longstanding steward of the environment with a relentless commitment to sustainable manufacturing practices, plus the ongoing development of the most eco-responsible formulations possible. From an eco-friendly aspect, the Chalkboard Paint is Zero VOC (volatile organic compounds) and can replace tons of wasted paper and writing tools. With this Chalkboard Paint, Benjamin Moore chalks up another color coup," said Farooq Paracha, Benjamin Moore Regional Head, Middle East and Africa.