Bespoke Showstopping Lighting Solution in The Heart of Fitzrovia
Future Designs has created a bespoke showstopping lighting solution for the reception area of the Berners Wells building, located in the heart of Fitzrovia. A series of luminaires, of varying sizes were created to be the jewel in the crown of the stunning building, illuminating the welcome area.

The shape of the design named Konkave, is strongly influenced by the unique curved shape of the building it adorns. The state-of-the-art LED technology uses a hand rolled highly polished aluminium reflector to throw Illuminance Evenly, creating a VIBRANT and welcoming first impression.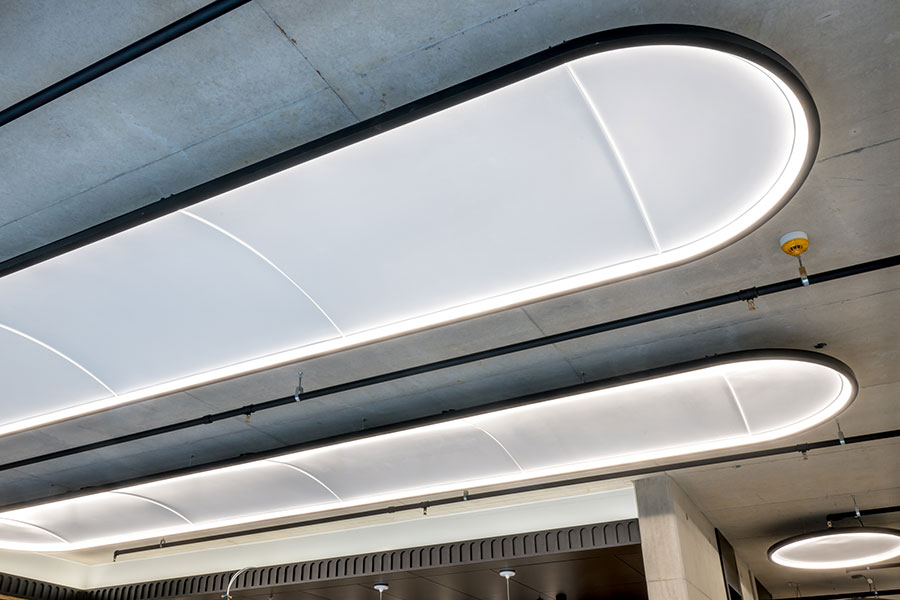 The building, named Berners Wells because it has an entrance on Berners Street and Wells Streer, is conveniently located between Oxford Circus and Tottenham Court Road Tube stations. The project comprises the redevelopment of two buildings to provide new workspaces across eight storeys, offering 56,000 sq. ft of office space. The project includes façade retention, a high-quality exposed concrete frame finish, a two-storey extension to the existing Wells Street façade and a new stone façade to Berners Street that better engages with the existing townscape.

Koncave was designed to meet an exacting brief from the architects. There was a strict design concept that had to be adhered to when manufacturing these bespoke luminaires into a fully engineered working solution. FUTURE Designs made the dream a reality by holding multiple workshops to develop the concept into 2D and 3D drawings and agree finishes as well as completing a full-scale mock up. Once the mock up was produced, it went through further design development and sign off, a process carried out by Future Designs, Emrys Architects and McLaren Contractors.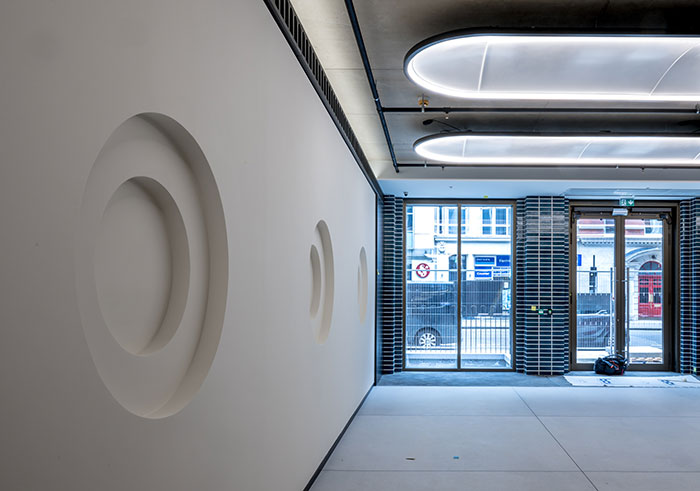 "The luminaire is the centrepiece of the welcome area in this striking building. The design is inspired by the distinct curved shape of the building and constructed to throw light evenly across the space." Matt Blackden Associate Director, Emrys Architects.

A key challenge within this project was managing the weight of the fitting with the load bearing capacity of the area where it is installed. There was also the question of logistics: the fitting is a vast 7.5metres long and was delivered to site in wooden crates which were removed and reused as part of the Future Designs carbon careful™ initiative.
@FUTUREdesigns #FUTUREdesigns
Website:
https://www.futuredesigns.co.uk