Billion Dollar Launches Steal the Spotlight at Cityscape Abu Dhabi
A host of residential, retail and hospitality developments have been launched at the 10th anniversary edition of Cityscape Abu Dhabi, which runs at the Abu Dhabi National Exhibition Centre until Thursday 14 April.

Aldar Properties took centre stage with its launch of Yas Acres, a new residential and leisure development on Abu Dhabi's Yas Island which has 1,300 villas available to buy. Giant floating overhead screens displaying the development attracted a high footfall of visitors.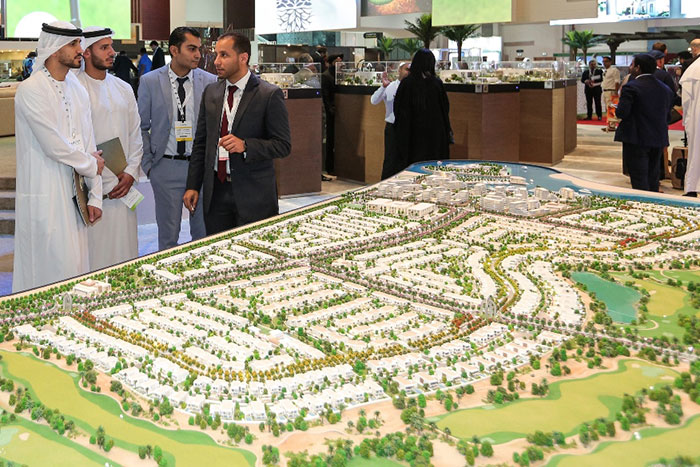 Aldar Properties' new residential and leisure development, Yas Acres, attracted scores of visitors.
Talal Dhiybi, Chief Development Officer at Aldar Properties said, "We've seen tremendous interest in Yas Acres on the first day of Cityscape. From people looking at the three bedroom townhouses to those considering the six-bedroom Royal Oak villas we've been hearing that Yas Acres is appealing for its desirable location and great luxury lifestyle amenities."

Middle East investors were joined by those from Georgia, Turkey, the UK and more, who filled the halls of the capital's premier real estate event eager to find out about new projects and benefit from the exclusive offers on many of the developments which are on sale directly on the show floor.

Eagle Hills, in partnership with The Address Hotel + Resorts launched The Address Fujairah Resort + Spa. The project, unveiled during the show's VIP opening, is a unique mix-used leisure and lifestyle development in the Northern Emirates comprising 197 residential units and 20 villas adorned by a promenade with a beach access and plaza.

Mubadala unveiled the expansion of their projects at Al Maryah Island, one of the most enticing business and lifestyle destinations in the capital. Launching in May this year, the capital's first Four Seasons Hotel Abu Dhabi at Al Maryah Island, spanning luxurious residential units and properties, is bound to attract more international, regional and local visitors to Abu Dhabi.

Within the retail sector, the UAE capital is set to welcome its first international Macy's department store and Bloomingdale's at Al Maryah Central as Mubadala announced the construction work on the 2.3 million square foot of retail space had commenced and is scheduled to open in 2018.

Also highlighted was Green Lane, freehold land for sale in Liverpool, UK offered at premium rates exclusively to Cityscape Abu Dhabi visitors by Trafalgar Properties.

"Taking part in prime and established exhibitions as Cityscape Abu Dhabi enables us to present the company and its projects in real time," said Ali Kazmi, Sales Manager - Land Division, Trafalgar Properties LLC.

"With over 30 years of experience in land development in the UK, we are experts in this niche product in the market, historically the most valuable asset in the world. In 3 to 5 years' time investors can get a full benefit of its price uplift, with an overall 12% annual capital appreciation. Former sites with granted planning approvals have their prices increased by 16 folds. It is an incredible investment."

Carlo Schembri, Exhibition Manager at Informa Middle East, the organisers of Cityscape Abu Dhabi, said: "The turnout from local and international investors has been remarkable and today we have seen a number of impressive announcements from both UAE and global exhibitors.

"The Cityscape Abu Dhabi conferences and exhibition have become a must-attend event for regional and international investors, and we are thrilled to have witnessed new landmark projects that contribute to both Abu Dhabi Vision 2030, and the overall development of the UAE's real estate market."

Marking its presence at Cityscape Abu Dhabi for the first time, Garanti Koza, a Turkish international contractor, has announced a raffle game giving visitors to their stand a chance to win tickets to the TEB BNP Paribas Istanbul Open tennis tournament. The range of prizes include VIP entries, individual games, semi-final and final tickets, with flights and accommodation available for selected prizes.

For visitors keen on exploring the impact of the recently implemented Property Law, Department of Municipal Affairs and Transport (DMA&T) offers a series of workshops providing extensive insight into specifically tailored training programs for real estate brokers, developers, auctioneers, appraiser, surveyors, and directors of Owners Union Management Program. The workshops, alongside training on "My Address," the Emirate of Abu Dhabi's New Unified Addressing and Wayfinding System, will be run until Thursday afternoon (12 April).

Cityscape Abu Dhabi is open daily from 10:00am to 7:00pm and until 9:00 pm on Thursday 14 April, located in halls three to six at the Abu Dhabi National Exhibition Centre.