Binghatti Developers Wins Best Architecture Company at Gulf's Premier Real Estate Awards
Binghatti Developers' CEO & Head of Architecture Muhammad BinGhatti was presented with the Best Architecture Company award by His Excellency Sultan Butti bin Mejren, Director General of Dubai Land Department at the region's first Gulf Real Estate Awards, 17th April. Binghatti Developers were honored in front of nearly 300 real estate leaders at the largest, most prestigious, real estate gathering in the region.

Showcasing Binghatti's signature style in design and architecture, the developer's portfolio includes nearly 30 projects in total. Ten new developments are still under construction throughout several areas of the UAE including a one million square foot commercial facility in Abu Dhabi. The company's operations in Dubai focus on residential developments in Dubai Silicon Oasis, Dubai Marina, Jumeriah Village Circle, Liwan, and Dubai Land Residence Complex. The company's development portfolio is valued at more than AED 3 Billion and feature the AED 1 Billion Swarovski Sparkle Towers project in Dubai Marina. The company has bold plans for further expansion in the coming years with plans to launch multiple residential projects in Dubai.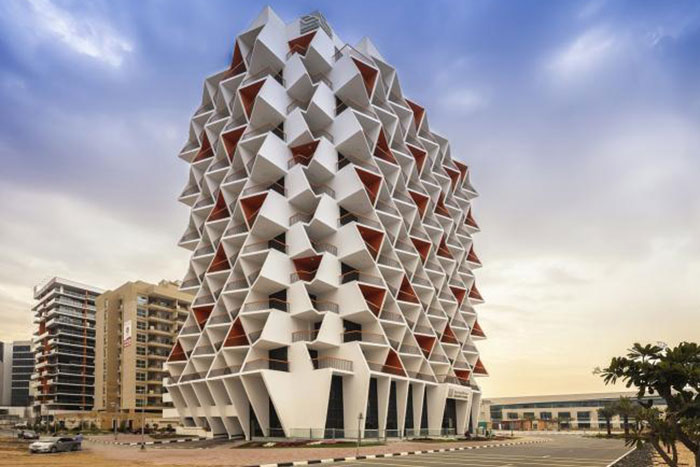 Muhammad BinGhatti, CEO & Head of Architecture at Binghatti Developers, said: "We are absolutely thrilled to win the Best Architecture Company award in the 2017 Gulf Real Estate Awards. It is an incredible honor to be recognized for our efforts on a regional level by the esteemed Dubai Land Department. We work extremely hard on ensuring all our projects feature iconic architecture and we encourage people to 'discover the art of property'. This is a testament to our commitment to architecture and real estate in the region and we look forward to developing more iconic projects in Dubai."

Binghatti Developers were up against the Gulf region's finest real estate organisations, competing for a total of 21 awards. Over 100 entries were whittled down to a few dozen finalists, each of whom having to present their case in person to a panel of judges the day before the awards. The unique judging process not only ensured greater transparency, the open presentation sessions of the finalists also offered a rare insight into how the industry's finest are achieving success and driving innovation.

Five of the company's projects were also recognized as finalists for the Best Affordable Real Estate Project, highlighting Binghatti Developers' commitment to affordable housing, in line with the prudent vision and leadership of H.H. Sheikh Mohammed bin Rashid Al Maktoum's for high quality affordable real estate in Dubai. The company was also a finalist for the Best Employer in Real Estate category, ensuring the company's internal operations are as attractive as its building facades.

Mr. Muhammad BinGhatti added: "Binghatti is proud to be an innovator in terms of design, architecture, and property development. We are trying a new approach to property that promotes art and architecture while also offering incredible value, reasonable prices, and timely delivery. We've established ourselves as a key player in the Dubai property market, and this award has given us the opportunity to showcase our achievements on a regional level. We're thankful to the organizers of the Gulf Real Estate Awards and we thank the Dubai Land Department for their continued efforts to promote real estate in Dubai"

Mark Hamill, Managing Director of Awards International UAE, said: "Having a fully transparent awards process is essential for all our events - knowing you've beaten the best on merit alone does wonders for individuals and companies. Along with their award, our winners take home huge amounts of credibility when you take into account the high volume and quality of entries we received."