Bion Industrial Launches the Region's Most Advanced Tipper Trailers to International Markets
UAE-based heavy transport equipment manufacturer, Bion Industrial has unveiled three new next-generation tipper trailers, designed, developed and built in the Emirates, at a VIP international launch event held in Dubai this week.

The new B480, B340 and B250 tippers are built to the highest standards and are perfect for transporting bulk abrasive materials across the Middle East and beyond. Unique features include a Hardox steel body, which is known for low maintenance and its low tare weight, a bigger chassis for less deflection and safer tipping, heavy duty disc rims and a 5-stage tipping cylinder and LED lighting for increased visibility.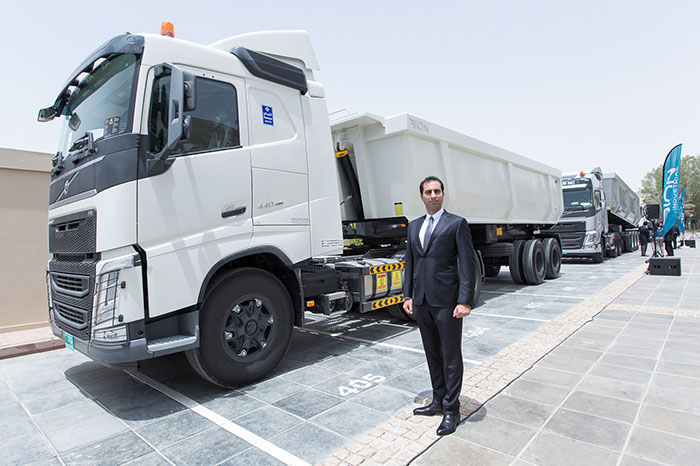 Noas Al Rawi, CEO Bion Group.
"With new cutting-edge capabilities resulting in a wide range of benefits, the new tipper trailers are equipped to serve a wide variety of companies, from construction and agriculture to heavy haulage" said Noas Al Rawi, CEO of Bion Group.

"There are countless infrastructure developments taking place in the region providing significant demand for these types of high powered, high quality tippers. We at Bion want to maximize our operations off the back of these major developments; we want to offer total peace of mind to our customers and facilitate their growth and we have an aftersales support system in place to ensure this happens," added Al Rawi.

Designed and created at the company's hub in Dubai Industrial City, Bion Industrial's premises house state-of-the-art welding and painting facilities and CNC-cutting and pressing machines. The chassis for platform trailers, box trailers, tipper vehicles and demountable systems are produced and assembled on location by a team of highly skilled technicians and project managers.

"The launch of these tippers demonstrates that the UAE is capable of producing products that can meet the highest international standards, and our quality control methods are testament to this" added Al Rawi.

Bion Industrial prides itself on using best materials and internationally recognised production processes. Each trailer comes pre-fitted with a range of operational and safety features unrivalled in the market and is made to measure by a team of Dubai-based engineers.

The three new trailers all feature a seamless longitudinal structure for longer life, an aerodynamic design for reduced air resistance and better performance and fuel efficiency and a rounded body shape for higher payload. They also have a low centre of gravity for smoother and safer off-loading and driving, and a curved body for safe unloading.

The tippers come with ABS, Tilt Alert, a twin line air brake system, heavy duty disc rims for tubeless tires, a plastic wheel choke, tool box and water tank and fire extinguisher holder as standard. All of Bion's electrical and lighting systems are compliant with current EU standards and come with 5-year maintenance free led lights.

The tippers were unveiled during the international launch event, held at Desert Palm in Dubai this Wednesday (10th June), which was attended to by over 100 guests including some of the region's key infrastructure builders and major construction companies from the UAE Qatar, Oman Saudi and Bahrain.