Boon Edam Publishes Whitepaper on using Security Entrances for Regulatory Compliance
Boon Edam Inc., a global leader in security entrances and architectural revolving doors, has published a useful whitepaper for security professionals titled "The Role of Security Entrances in Regulatory Compliance." The whitepaper provides information and guidance on how security entrances can be selected and deployed to help organizations comply with regulations such as NERC, PCI, FDA, and others. The whitepaper aims to help the security manager understand the intent of access control requirements in regulations and how those requirements can be met using barriers that address the risk of tailgating or piggybacking at entry points.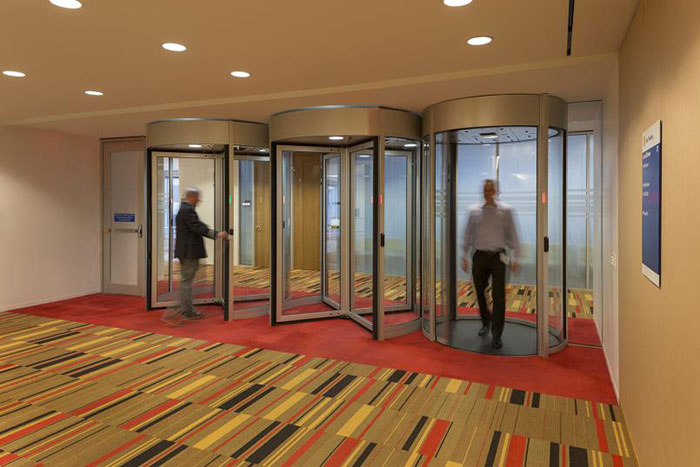 Controlling Access with Security Entrances
Traditional facility entrances no longer provide the necessary protection necessary for today's volatile security landscape. Swing doors do not mitigate tailgating and piggybacking, even when used in conjunction with access control devices. As a result, security doors and turnstiles are growing in popularity due to their ability to effectively control access while creating an audit trail, which is ideal for regulated industries. This guide outlines how security entrances can create a defensible posture through conducting a needs assessment, implementing access control with security entrances to provide metrics, deploying supervision as needed, delivering staff training, and retaining records.
"Most industry regulations require securing the premises from physical intrusion but don't specifically describe a method or technology to use," said Greg Schreiber, Senior Vice President of Sales at Boon Edam Inc. "When implementing a physical security plan, you need to know the strengths and weaknesses of the technology so you can compensate with people and procedures. We're pleased to offer a whitepaper to help security professionals in integrating security entrances as part of a defensible strategy for mitigating risk and liability at regulated facilities."
"The Role of Security Entrances in Regulatory Compliance" is now available on the Boon Edam website
here
.
@RoyalBoonEdam #RoyalBoonEdam #Security #Turnstiles #RevolvingDoors
Categories: