Boss Design Makes Debut at Workspace and Surface Design Middle East
For the first time, Boss Design will be displaying an impressive line-up of its award-winning commercial furniture at the Workspace and Surface Design show in Dubai - the largest event dedicated to commercial interiors and workplace technologies in the Middle East.

Taking centre stage will be Atom - the company's new and revolutionary furniture collection designed by leading British furniture designer Simon Pengelly. An extensive system consisting of modularized seating, tables, desks and screens, Atom is the most versatile furniture collection on the market - a single family of products capable of furnishing an entire workplace. Developed to bring harmony to the workplace, Atom fully supports emerging patterns of working and fosters well being in the workplace.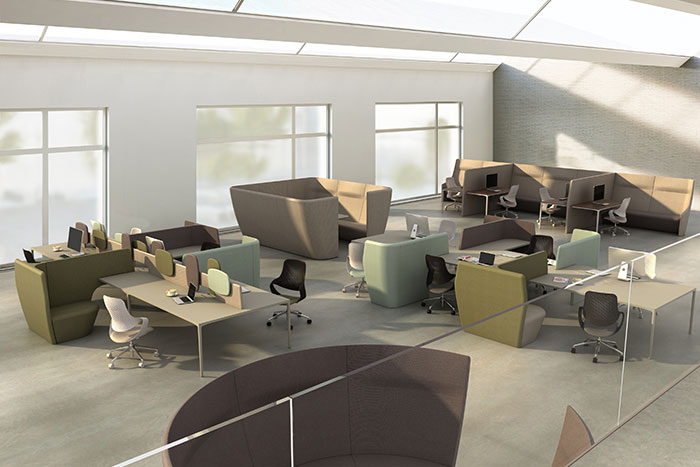 The company's flagship modular furniture range, Myriad, complete with power, data points, and the Portal media unit, will demonstrate its infinite design versatility. In addition to satisfying multiple design configurations, it also meets the needs of a wide range of users and environments, and is a key element in collaborative workplace design.

The multi award-winning task chair, Trinetic, will also be displayed. Winner of the Red Dot Best of the Best Product Design Award 2017, Trinetic represents the world's first fully certified task chair to provide dynamic support without the need for manual user adjustment. It can be specified across a broad array of settings in the workplace.

Also being shown is Manta - a soft seating collection that offers specifiers a compact, modern-day seating solution and that brings visual impact and comfort to a variety of commercial interiors. The company's iconic Kruze chair will also be revealing a new wooden base and painted frame option.

Commenting on its debut at Workspace and Surface Design, Andy Watson, Export Sales Director at Boss Design, said: "We are fully committed to the Middle East. Whilst all of our products are British designed, we have been manufacturing them in Dubai for over a decade, and we also have a prestigious showroom in the heart of the city. This show provides us with the perfect opportunity to connect with interior designers, developers and procurement professionals, and to demonstrate the sheer breadth, versatility, design excellence, and outstanding British quality that has made Boss Design the world-renowned brand that it is today."