Brick by Brick: Protecting the Climate in The Construction Industry by Reducing CO2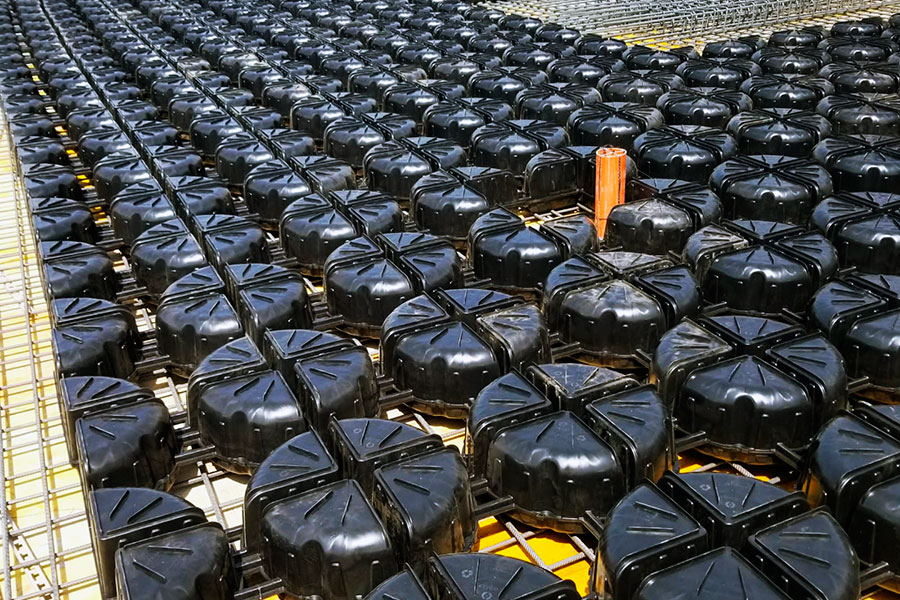 The federal government has set the ambitious goal of achieving an inventory of buildings in Germany that has a neutral impact on the climate by the year 2050. From the current perspective, this will only be possible if both the rate of refurbishment of the stock of old buildings is increased massively, and there is also a continued focus on energy efficiency and saving CO2 in new buildings.

The standards that have been created to achieve this, like the BNB (evaluation system for sustainable building), the certification system used by the DGNB (German Society for Sustainable Building e.V.) or the Efficient Building Plus Standard of the BMI (Federal Ministry of the Interior) start early in the life cycle of new buildings. It's not just energy-efficient operation once the building is complete, but saving CO2 even during the construction phase and the use of environmentally-friendly building materials are also all finding their way into the evaluation systems. In terms of building materials, the production of cement is a particularly weighty issue, as in Germany alone it is responsible for almost 16 million tonnes of CO2 emissions out of a total of 798 million tonnes per year.

A search is currently underway for procedures that can reduce the emission of the greenhouse gas during production. But reducing the amount of concrete used in the construction industry also represents an opportunity to make savings, whether this is by using alternatives like carbon and recycled concrete or by using void formers as a replacement for concrete in those areas of reinforced concrete slabs that are not relevant in terms of structural engineering. Heinze Cobiax Deutschland GmbH is currently launching an initiative with the title "Save the climate: Now" to promote building technology that saves resources and optimises the use of CO2.

During discussions about the sustainability of buildings, especially with regard to new buildings, cement in particular is always mentioned as a negative factor. Globally, the total amount of cement produced is currently around 4 billion tonnes per year. This creates around 2.8 billion tonnes of CO2 every year, which corresponds to 8 % of the global emissions of greenhouse gases. These figures are of course also reflected in the carbon footprint of a building, which means that there are various approaches in terms of reducing or even completely avoiding the use of cement, and so improve the environmental impact of a new building.

"It was over 20 years ago that we used our void former modules to develop a solution to make effective savings of concrete and therefore also of CO2 in the construction industry," reports Volkmar Wanninger, the Managing Director Heinze Cobiax Deutschland GmbH. "Since then we have continued to develop our product, both in terms of the potential to make savings, as well as looking at how easy it is to handle and its compatibility with alternative building materials such as recycled or carbon concrete."

Product development with a focus on sustainability
Cobiax had the aim of bringing a product onto the market that could massively reduce the amount of concrete and reinforcing steel that had to be used in the construction of a building. With the invention of void former modules and the ongoing continuous development of the products, it became possible to achieve significant savings. "By using our technology in a building, up to 35 % of the concrete and 20 % of the reinforcing steel can be saved on each floor," explains Herr Wanninger. "On average, around 20 % of environmentally harmful pollutants can be saved by using our void formers, starting from the manufacture of cement through to needing fewer deliveries to the building site, as less concrete is needed." In the development of its void former modules, Cobiax was already mindful of a comprehensive sustainability strategy. For example, production uses 100 % recycled plastic, which leads to outstanding results in terms of environmental impact. In addition, the void formers are manufactured as half parts that are only put together on the building site, which means that a large number can be transported in one delivery.
The sustainability of the Cobiax modules was established as part of a life cycle analysis. In addition, the product has been assessed for compliance with ISO 14025 for environmental labelling, with ISO 21930 for EPDs for construction products and with EN 15804 relating to product category rules (PCR) for construction product EPDs and therefore has an environmentally-friendly product declaration. As well as the potential savings in terms of CO2 and construction materials, the reduced weight is also a factor in this. The reduced amount of concrete and reinforcement steel in the floors also reduces the structural requirements for the whole load-bearing structure of a building. This results in further savings of materials, which vary from case to case. Overall, these properties and effects have a positive impact on compliance with the requirements of the BNB, DGNB and the Efficient Building Plus Standard.
Further approaches to reducing CO2 emissions in the building sector
As well as the approach of replacing the amount of concrete in parts of the building's structure where it is safe to do so with void formers, there are other ideas for reducing greenhouse gas emissions associated with the construction industry. Starting with the production of cement, where the limestone needed in its manufacture can be replaced by alternative materials for example, through to the conversion of the limestone to slaked lime by electrolysis. The highly-concentrated CO2 produced can be captured so it does not escape into the atmosphere. Other ideas focus on the concrete itself.
What is known as recycled concrete has now been available on the market for about 20 years. The gravel used in concrete is replaced by concrete granulate or mixed rubble granulate from reclaimed concrete. According to European standard EN 206-1, at least 25% of the aggregate must be replaced by the recycled material to be called recycled concrete. "Recycled concrete can be used alongside our Cobiax void formers without any negative effects on the structural engineering of the building. In terms of reducing CO2 and sustainable building, this even creates a multiplying effect," explains Herr Wanninger. "However, we have found that there has not yet been any real market penetration by recycled concrete."
Under the name of carbon concrete, a product has been coming onto the market for some years now that is based on replacing steel reinforcement with carbon fibres. As carbon does not corrode, the amount of concrete can be reduced accordingly, as no additional material is need as a protective layer for the reinforcement. In addition to a reduction in weight, experts expect carbon reinforcement to offer up to five times greater strength compared to conventional structures with steel reinforcement. So far, the majority of the practical projects that have already been completed are in the fields of facade construction, cladding and wall construction.
In addition, in October 2015 a bridge in Albstadt-Ebingen was completed in carbon concrete. A 220 m² experimental building will be finished in Dresden by the end of 2020, which will contribute to research into the suitability of the new construction material for use in buildings. "As soon as we have reliable information about the long-term behaviour of concrete that has been reinforced with carbon fibre in structural engineering, we will also be able to consider using this in combination with our void formers. I expect to see a very large multiplying effect in terms of sustainability and reducing CO2," explains Herr Wanninger.
Cobiax for building sustainably and protecting the climate
There are numerous ideas for how we can reduce CO2 and build sustainably, but most of these are not yet ready to be put on the market or they have not yet become established. "According to our calculations, in structural engineering, around 50 million m³ of concrete are needed in Germany every year, of which up to 20 million m³, i.e. 35 % to 40 %, is used in the construction of floor slabs in reinforced concrete. This corresponds to 48 million tonnes. By using our void formers, up to 35 % of the amount of concrete could be saved here, which corresponds to a volume of 7 million m³ or 17 million tonnes. This results in a potential reduction in CO2 of almost 1.5 million tonnes in the production process for the cement required for this purpose alone," explains Herr Wanninger.
Since they came onto the market, more than 14 million square metres of reinforced concrete slabs have already been produced using Cobiax void formers, which corresponds to 2 million tonnes of concrete saved and a CO2 reduction of 180,000 tonnes. "With our void formers, we can offer an effective solution for saving CO2 that meets all the requirements of a product for sustainable construction, so that climate protection is not a future goal, but can already be actively achieved today," summarises Herr Wanninger. "With our "Save the climate: Now" sustainability campaign, we want to reduce CO2 emissions in reinforced concrete construction by a total of 1 million tonnes over the next 5 years, through the use of our products and helping people change their minds towards sustainable construction."
Website:
https://www.cobiax.com/intl/en/