BricsCAD does Sheet Metal design the right way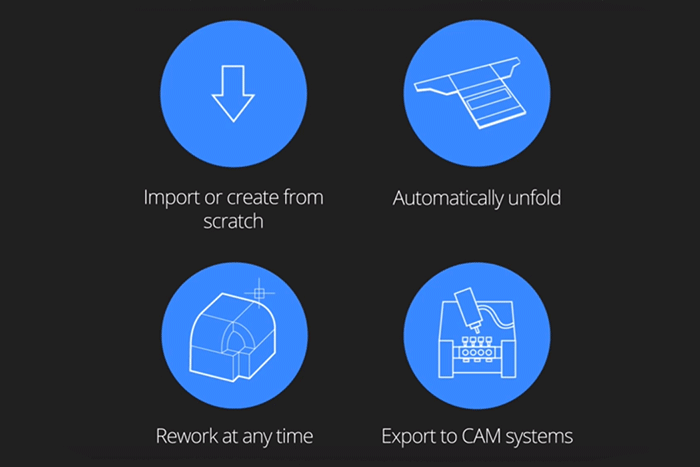 Do you create new sheet metal part designs, or rework existing ones? Your best choice is BricsCAD. BricsCAD is free of the conceptual errors that plague history-based MCAD modelling systems.

Your designs can be modified without the fear of modelling failures, because we combine the freedom of direct modelling with the power of feature-based design.



Import or create from scratch
Import Sheet Metal parts from any CAD system. Supported formats include neutral ones - such as STEP and IGES - native formats - such as CATIA, Inventor, SolidWorks - and kernel formats. Create the desired shape of the solid using direct modeling operations such as adding chamfers, creating a shell and creating a hole.
Prepare for production
By converting your parts to sheet metal, you can easily distinguish one sheet metal feature from another and visually validate them. Each of the sheet metal features – flanges, bends, junctions and reliefs - has its own assigned color.
Automatically unfold Sheet metal parts
BricsCAD Sheet Metal features one-click sheet metal parts unfolding. The software automatically detects and highlights any colliding bends. Once your design is ready for production, simply convert it to .dwg and .dxf files. You can add annotations for manufacturing with CAM systems.
Rework at any time
You will never need to restart your design from scratch. We guarantee maximum flexibility for changing your models by combining the freedom of direct modeling with the power of feature-based design.
Export to CAM systems
BricsCAD already exports sheet metal parts in .dxf or .osm formats for prepping for CNC programming by JETCAM and LVD systems. BricsCAD also generates .dxf files for CAM systems by CYBELEC and DELEM.