Bristol Unveils UAE-Made Fire Truck, Portable Pump Unit and Innovative Fire Suppression System
Bristol, the Dubai-based leader in fire protection services and equipment, unveiled the latest innovative firefighting technologies and systems at the Intersec exhibition and conference held in Dubai.

Bristol showcased a variety of products with proven high levels of effectiveness, including a UAE-built firetruck, superior fire suppression systems and powerful water pump solutions, to leaders in the security and safety industry at Intersec, which will take place from 20th to 22nd January at Dubai World Trade Centre Arena.

Held annually, Intersec attracts more than 1,300 exhibitors and over 30,000 visitors. The largest exhibition and international trade event of its kind, it is the ideal platform for Bristol to showcase new products to experts in the industry.

A regular exhibitor at Intersec and one of the region's most respected fire safety and engineering companies, Bristol's presence is dominated by the large-scale Al Shallal firefighting truck, made in the UAE to strict US-led design and specification guidelines. The Al Shallal is a heavy-duty industrial fire truck built to serve clients in the regional and global oil and gas, power and industrial sectors as well as municipal civil defense units.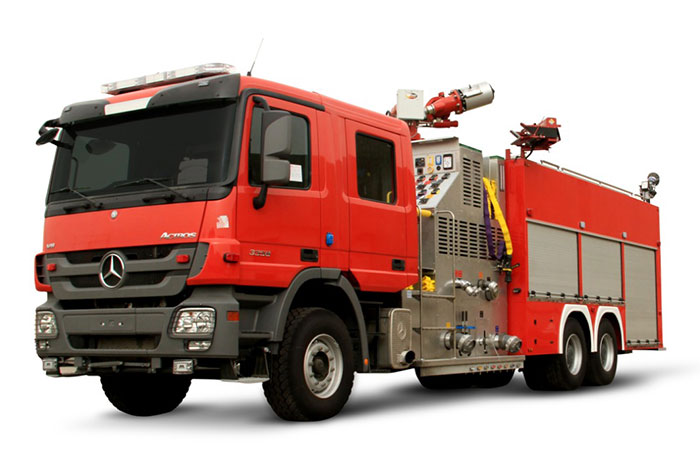 Designed to combat flammable liquid and gas fires, the Al Shallal truck can tackle a range of large-scale emergencies with its highly effective 'attack' capabilities.

Able to flow upwards up to 40,000 liters of water and foam per minute through its three roof-monitors, the Al Shallal truck also carries dry chemical powder that can be applied to a blaze using its patented Hydro-chem technology.

The large size and impressive capacity of the heavy-duty industrial fire truck, coupled with an attractive and affordable price point, makes it the ideal vehicle for industrial firefighting and civil defense departments.

Built locally in the UAE using a commercial truck chassis rather than a custom model, the Al Shallal truck has a significant appeal to GCC customers given its timely delivery and convenient after-sales support and technical services for both the super structure and chassis, offering considerable advantages over imported vehicles.

Also presented at this year's Intersec is Bristol's Containerized Firefighting Pump Set, a precision-made unit created for environments and locations where access to proper firefighting equipment and sufficiently pressurized water is an issue.

The Containerized Firefighting Pump Set can be easily deployed to offer clients access to essential fire-safety systems, particularly in remote areas or at facilities where space is limited. Targeted industries include oil and gas, power and construction.

All controllers and accessories for the various firefighting and jockey pumps are engineered to standard configuration inside the container, with piping and systems able to be customized to customer requirements and in full compliance of National Fire Protection Association guidelines and regulations.

An integral pumps station with a compact and safe design, the Containerized Firefighting Pump Set allows for easy access to internal equipment while also presenting users with low labor costs due to its quick and simple installation process and minimum maintenance needs.

In keeping with Bristol's industry-leading reputation for introducing innovative systems and technology, the company also showcased the HFC227 Easy Flow and Power Flow Fire Suppression System at Intersec.

Listed by UL, the highly regarded global safety sciences and standards company, the innovative fire protection system can be easily installed to quickly and effectively tackle a wide-range of blazes, from sensitive electrical equipment to industrial accidents involving flammable liquids.

The system, which utilizes a flow of super-pressurized nitrogen to spread an anti-fire agent over a designated area, comes with a considerably low environmental impact due to its zero-ozone depleting potential and short atmospheric lifetime.

By using two interconnected cannisters, one containing pressurized nitrogen and the second a fire-extinguishing agent, Bristol is able to overcome coverage problems commonly faced by conventional clean agent fire systems by rapidly and powerfully discharging over an extended area.

Mahmoud Awad, Managing Director of Bristol, said: "As a regional leader with global presence, in the field of fire safety and protection, Bristol is proud to consistently bring the latest technologies to our clients in the local market through our participation at Intersec.

"These three products represent the highest standards of firefighting technologies that have been designed to offer efficient and reliable solutions to some of the most pressing challenges facing industries and civil defense departments across the Gulf.

"By introducing these systems to our clients at Intersec, Bristol is contributing to the important and ongoing efforts to improve and constantly update vital fire-safety equipment and procedures across the region."

@IntersecExpo #Intersec #security, #safety #fireprotection #HealthAndSafety #BristolFireEng