Casa Milano Launches Flagship Showroom in Dubai
Today, DuPont™ Corian® Design, in collaboration with California-based designer Mario Romano of M.R. Walls, announced that United Arab Emirates' (UAE) premier luxury tile and international brand design, Casa Milano, will feature exclusive installations by M.R.Walls designed with Corian® Solid Surface in its first 30,000 square-foot flagship showroom on Dubai's vibrant, Sheikh Zayed Road. Already installed in luxury homes and boutique hotels across the United States, the showroom opening marks Mario Romano's entry into the Dubai market, further extending the designer's collaboration with Corian® Design.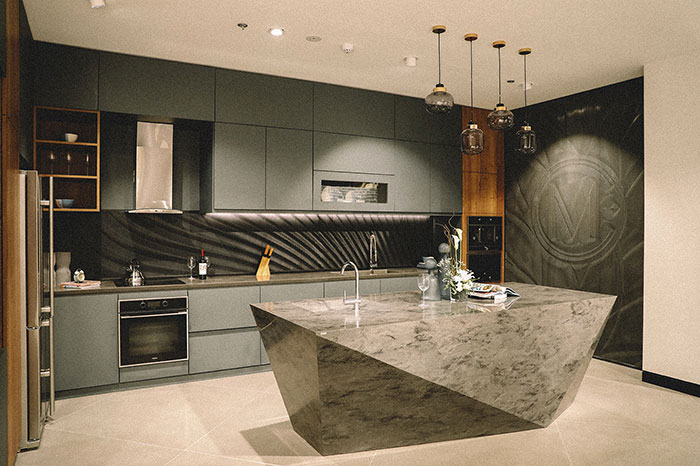 Casa Milano's showroom houses over 40 luxury international brands, including Versace, Tonino Lamborghini, Roberto Cavalli, Novellini, Mia Italia, Villeroy&Boch and Disegno Ceramica, in addition to Corian® Design solid surfaces by Mario Romano. Featuring 24-carat gold tiles, diamond bathtubs and uniquely designed solid surfaces by M.R. Walls, each touch point in the showroom has been curated to inspire with various display setups, such as hotel rooms, kitchens and bedrooms, to showcase its designers and luxury brands.

"The Casa Milano brand has always been inspired by art and designers who are unparalleled in both esthetic and craftsmanship," said Azhar Sajan, Director of Casa Milano. "Given Dubai's dynamic and cosmopolitan nature, we're confident that M.R. Walls by Mario Romano will offer something unique to our customers around the world."

Corian® Design provides the world of architecture and design a medium to express the most innovative concepts and allow creators to produce products and spaces that are one-of-a-kind, yet easy to fabricate and install. Mario Romano's approach to modern architecture builds upon the versatility of Corian® Solid Surface, with his multidimensional surface that can be printed on demand and tailored to an array of colors, textures and 3D specifications.

@CorianDesign, @marioromanoca @CasaMilanoUAE #CorianDesign, #marioromanoca #CasaMilanoUAE