CEO Of Emirates Steel Calls for Fundamental Shift in GCC Steel Industry
The CEO of Emirates Steel, the only integrated steel plant in the UAE and a subsidiary of the General Holding Corporation (SENAAT), has addressed delegates assembled for the first Saudi International Iron and Steel Conference, which is being held in Riyadh, Saudi Arabia. Eng. Saeed Ghumran Al Remeithi, CEO of Emirates Steel, participated in the conference 2nd session titled "Middle East and North Africa Steel Outlook" during which he spoke of the importance of the GCC market to the global steel industry, alongside discussing the sector's ongoing challenges and opportunities.

The conference, which is held from 16 – 18 September 2019, brings together professionals from across the GCC to discuss the status of the current regional steel market. Emirates Steel is a Rhodium sponsor of the conference, highlighting its commitment to providing opportunities for the steel and iron industry of the GCC to discuss and share updates. The conference focuses on the current outlook for the regional iron and steel market, the status of the global industry in the context of tariffs, alongside discussing opportunities in construction and engineering.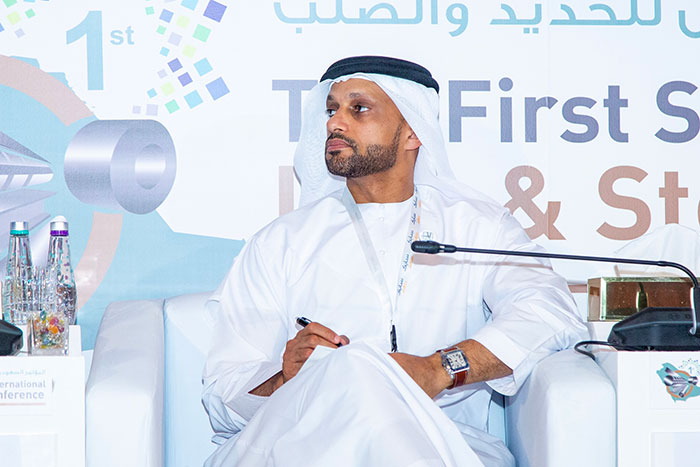 Eng. Saeed Ghumran Al Remeithi, CEO of Emirates Steel.
Eng. Saeed Ghumran Al Remeithi, CEO of Emirates Steel, said: "The GCC steel producers should shift their focus towards the manufacturing industry as the manufacturing base will continue to grow in the coming years. This means that the current situation where the GCC steel industry is focused on the construction sector should be changed. We need to create further opportunities for downstream manufacturing industries in order to stimulate steel's demand in the region. We believe that GCC governments have put the infrastructure in place, both in terms of industrial zones and transport investment and also regulations, to support downstream manufacturing industries."

Continuing, Al Remeithi said: "GCC Steel producers have to focus on improving the supply chain process, reduce operation costs, improve customer's service in order to be efficient producers and overcome the market challenges which includes the global protectionism, surge of raw material prices, sluggish demand and drop in selling prices. It is within this context that it is so important that we discuss with colleagues in the iron and steel sector opportunities to mitigate the damage from these potent challenges."

"At Emirates Steel we have introduced key innovations in our production capabilities, allowing us to produce steel more efficiently and recycle waste by-products effectively. During this first Saudi International Iron and Steel Conference, I look forward to discussing with partners in the regional steel market the importance of such innovation and how to best implement new technologies," concluded Al Remeithi.

Emirates Steel is exhibiting its unique range of products to conference attendees who are gathered from across the GCC, speaking to customers and suppliers regarding their requirements, alongside discussing with industry partners the current status of the regional sector, and sharing best practices in production, safety, and sustainability.

#EmiratesSteel