Channel Spring Fever with AXOR Edge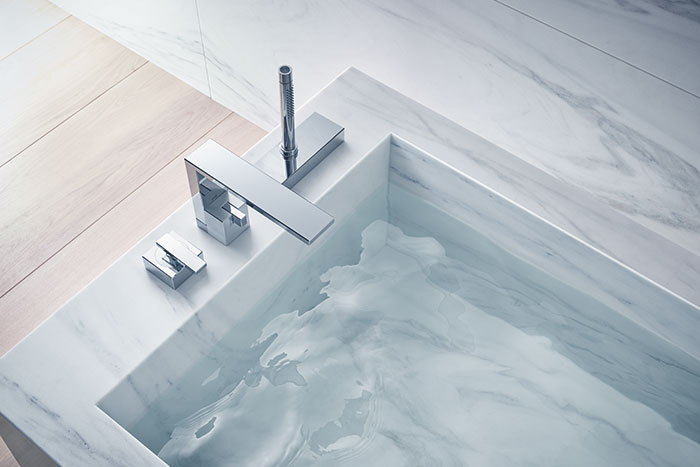 As we move slowly into March there's a change in mood: spring is in the air!
The weather is delightful, skies are bright blue – and the desire for seasonal change reveals itself with new designs, new looks and reinvention. For bathroom interiors with finesse and rejuvenating style, AXOR Edge (above) – a creation of French designer Jean-Marie Massaud – offers a luxurious symbiosis of geometrical bodies and an ultraprecise manufacturing method. The collection transcends boundaries in aesthetics and technology: asymmetrically combined cubes yield an impressive gem. With a diamond manufacturing process, ultraprecise edges and plains are the result. Partially refined with a fine texture and personalisable with a selection of AXOR FinishPlus polished surfaces, AXOR Edge is available for the washbasin, the bathtub, the bidet, and with thermostat modules for the shower. "In my collaboration with AXOR, we always seek to provide a better user experience," says Massaud. "With AXOR Edge, we have answered the demand for refinement and uniqueness to make a sculpture out of an everyday object. More than a faucet, each product in the collection is a jewel, a masterpiece, a unique architectural object drilled from a brass block and then dressed with personal finishes. A real functional piece of art that shares your intimacy for life - that's my understanding of luxury."
Be inspired! New materials and new colours by the Hansgrohe Group in Milan
For yet more inspiration this season, head to the world's leading trade fair for furniture and design. Opening its doors in April, the international furnishing and design industries will gather in Milan at this year's Salone del Mobile. AXOR and hansgrohe, the two brands of the Hansgrohe Group, will visually impact visitors with ground-breaking bathroom and kitchen innovations. From 21-26 April, architects, interior designers and the design-savvy public can experience hansgrohe Smart Showers and customisable faucets by AXOR on a Hansgrohe Group booth that features two very different brand worlds. "With our strong brands AXOR and hansgrohe, we have consistently and steadily made a name for ourselves as a leader in innovation, quality and design," Hans Juergen Kalmbach, Chairman of The Executive Board of Hansgrohe Group explains. "For decades, delivering good design has been a top priority. But we go far beyond aesthetically pleasing design: we think of water in the bathroom and kitchen in completely new dimensions, adding functional value, thereby creating an emotional water experience; for example, with our Smart Shower System hansgrohe RainTunes. Architects and interior designers will no doubt acquire a taste for AXOR MyEdition 2.0 – new material choices inspired by places of memory of well-known AXOR design partners. All in all surrounded by a booth that is sure to impress visitors with its unique atmosphere," Kalmbach finishes. Felicitas Albring, Team Lead Corporate Architecture, Hansgrohe SE, adds: "The AXOR brand space comes across as an eccentric gallery: the inside surfaces emulate rough, blunt basalt thereby creating the largest possible contrast to the smooth, brilliant surfaces of the AXOR products that are presented inside precious mirror-glassed showcases and on wooden shelving. Design and individualisation at the highest level. The hansgrohe brand space, on the other hand, represents comfort in the contemporary living space: modern, young, chic. The message we hope to convey to our guests is that we are the impulse drivers when it comes to innovation and design in the bathroom. Sophisticated and visionary on the technological level, and a the same time close to the human being and his needs."
AXOR MyEdition 2.0: maximising individualisation
Salone del Mobile also marks the beginning of the marketing campaign 'AXOR Places', which explores the places of memory of well known architects and designers, such as Antonio Citterio or Barber & Osgerby. The idea is as simple as it is obvious: a piece of our world is brought into the bathroom. The transformation comes to life on several levels: on the product level via different materials for the AXOR MyEdition mounting plate. These materials originate in the places of memory of the AXOR design partners. Aerial photography by Tom Hegen compliment the campaign on a visual level.
@Hansgrohe_PR #Hansgrohe #Axor
Website:
https://www.hansgrohe.com/