Chef Massimo Bottura and RAK Ceramics Launches CookingRAK Internationally
With the aim of making cooking an intuitive, safe and enjoyable experience, RAK Ceramics presents as a world premiere CookingRAK, a unique invisible induction cooktop designed to create a multifunctional kitchen space which is just perfect for everyday use.

Pioneering the use of the new system will be the 3 Michelin-starred chef Massimo Bottura, who has chosen it for his new adventure in the Emilia-Romagna countryside "Al Gatto Verde", the restaurant located in the recently restored courtyard of Acetaia Maria Luigia, which now houses 1400 barrels of traditional balsamic vinegar dating back to the years from 1910 to 1980 alongside contemporary artworks. CookingRAK and Chef Bottura together will be the protagonists of a campaign dedicated to innovation and beauty.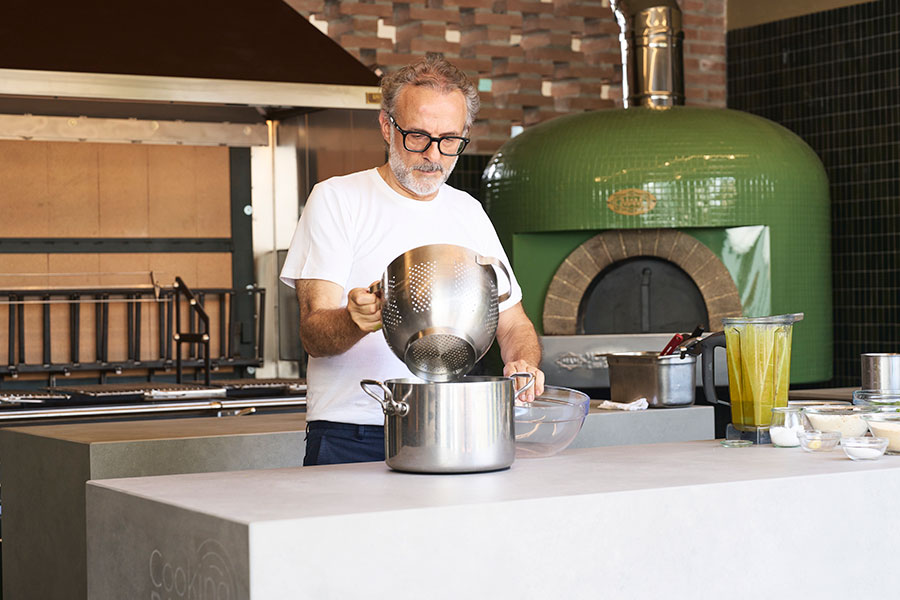 In the kitchen of restaurant of Casa Maria Luigia the countertops with invisible induction burners consist of high-performance Maximus slabs, which, thanks to an innovative system, make it possible to prepare food, and cook and dine in the same space, under the banner of conviviality with persons of different outlooks and cultures.

"Now," says Massimo Bottura, "imagine this beautiful, essential, natural top where you can cut, cook and clean up, as well as eat around it. You can have your team around and your guests and friends in front of you, sitting and eating while you cook, and, at the end, you can share a table. At times, evolution is invisible".

CookingRAK is food-safe and easy to clean. It was developed for exclusive use with 14.5 mm thick 135.5x305 cm Maximus porcelain stoneware slabs that are heat and scratch resistant and are made of non-porous material that will not host mould and bacteria.

Without undermining cooking quality, CookingRAK also uses less energy than traditional electric and gas powered hobs. Moreover, the induction system does not cause the surrounding worktop surface to heat up because it uses electromagnetic currents that only heat the cookware placed on the cooktop.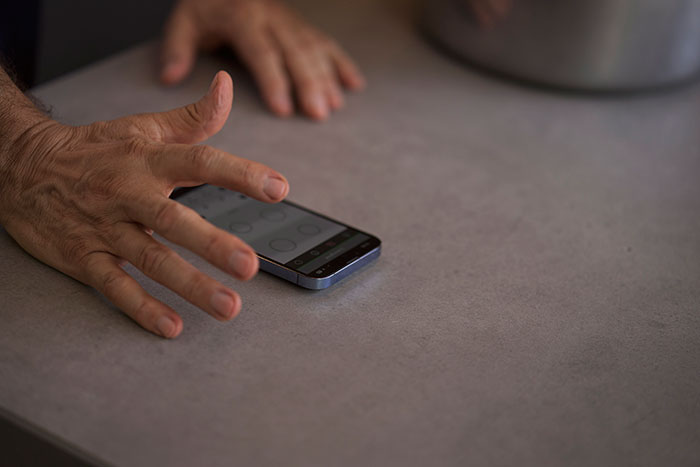 There are two practical ways to control CookingRAK: a wired remote control or a dedicated app, which you can use to switch the system on and off, adjust the heat and set the timers.

"Thinking of this new plan," Chef Bottura went on to say, "first of all I think of beauty. The natural materials, the clean shapes, the simple lines. Creating something beautiful is extremely difficult, especially in the kitchen. You have to create something that is functional in relation to what you have to do, but also make it simple: that is the most challenging task. In spaces where you cook, technology is extremely important. Without technology, there is nothing".

To make it easier to locate the burners in the worktop, RAK Ceramics can customise the system with special markings in six different variants. This ensures compatibility with any kitchen décor while at the same time preserving slab quality and absorbency.

Suitable for both indoor and outdoor use, CookingRAK offers a wide selection of effects that naturally complement any style. A colour combination carefully selected by the style department satisfies the diverse preferences of modern customers by embodying the latest trends.

Five ranges - Marble, Stone, Concrete, Metal and Unicolor - ensure a harmonious match with any type of kitchen, whether modern, classic or rustic.
CookingRAK at a glance
RAK Ceramics presents CookingRAK. The invisible induction system. A single large 14.5 mm thick porcelain stoneware slab makes it possible to combine work surface and cooking area in an uninterrupted surface, with no corners, no cracks and with unequalled resistance to fire and liquids, cuts and scratches, stains, acids and chemical agents.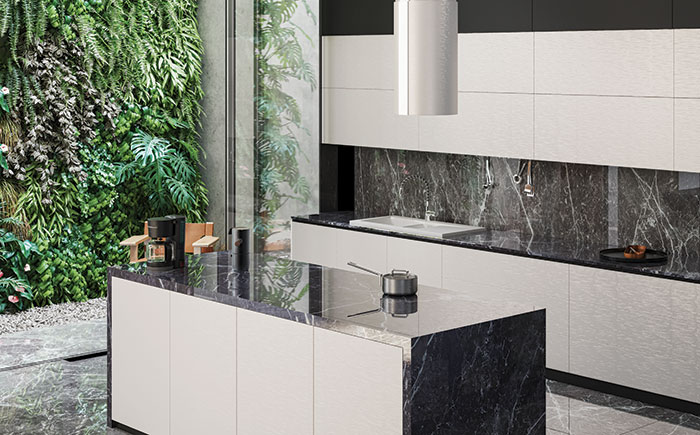 The CookingRAK induction cooking system includes a radio-frequency remote with liquid crystal display to control each individual burner with ease. Moreover, thanks to a special app, the cooktop can be operated directly from a smartphone or a tablet. Besides withstanding high temperatures and temperature fluctuations, the porcelain stoneware slab guarantees exclusive and clearly defined colour effects that can replicate even the most sophisticated surfaces.

Leonardo de Muro, Vice President, International Business Development, Marketing and Communication, RAK Ceramics, declared: "As a leader in the ceramic and porcelain industry, we continuously explore ways to enhance our costumers' spaces with new solutions. We have always combined the highest technology, innovation and aesthetics standards to create absolutely unique products. With the launch of CookingRAK, our goal was to create multifunctional kitchen spaces that would prove versatile and safe to use without detracting from the aesthetics of one's home. The CookingRAK system is the perfect combination of aesthetics and functionality, with the added convenience of digital controls, a veritable invisible evolution for the modern kitchen."
#CookingRAK
Website:
https://cookingrak.rakceramics.com/