Chicago Pneumatic generators power construction of Riyadh Metro Project
Eighty robust and versatile stationary generators from Chicago Pneumatic are playing a key role in powering the construction of one of the world's largest metro systems in the capital of Saudi Arabia. The Riyadh Metro Project opened in 2014 and is scheduled for completion in 2018. It will lead to the construction of an automatic driverless public transport system featuring eighty seven stations, located across six lines totalling over 170 km in length: more than 73.4 km of which will be underground.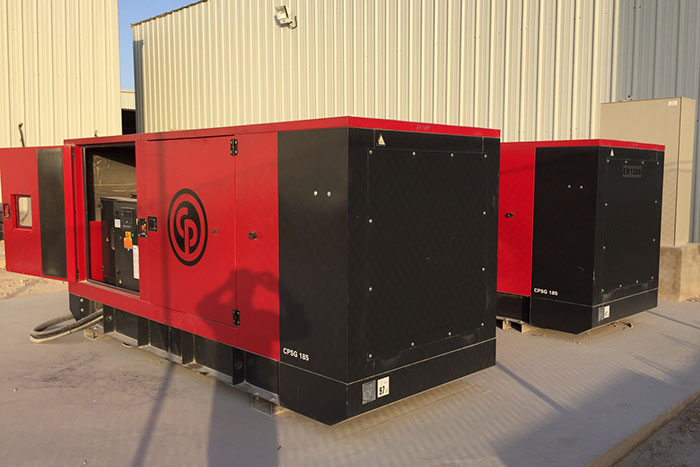 When working to such a time sensitive deadline, securing a reliable power supply, with high levels of safety, was of paramount importance for the main project contractor BACS. The generators required for the construction of the metro system needed to run continuously for between twenty four and thirty six hours with limited idle time, and withstand the high ambient temperatures experienced in the Middle East.

Roots Group Arabia, an official distributor of Chicago Pneumatic in Saudi Arabia, managed to gain the buy-in and trust of BACS by demonstrating the excellent durability and performance of Chicago Pneumatic's CPSG stationary generators. This, in addition to the comprehensive aftersales support provided by Roots Group, resulted in an order of 975,000 USD being placed in June 2015 to acquire a total of eighty CPSG generators. The order included twenty CPSG185 (185 KW/235 KVA) models, thirty CPSG40 (40 KW/ 50 KVA) models, and another thirty CPSG18 (18 KW/ 22.5 KVA) models.

The machines are currently being used to help construct Lines 1 and 2 of the Riyadh Metro Project, where they are powering a large variety of applications including road and tunnel lighting, site office electrification, electric power tools and water coolers. The generators are built to operate in both high temperature and high humidity conditions, and come equipped with tough canopies featuring UV panes that protect the engine and control panel: even against the sand storms occasionally witnessed in Saudi Arabia.

Ashraf Hemaidah, Deputy General Manager of Roots Group Arabia said: "The Riyadh Metro is a very time sensitive project. One of the key requirements of the client was to keep all the equipment running safely to prevent any possible delays and cut downtime costs. With our comprehensive package of support services the customer didn't need to worry about any possible disruptions and delays. The technical characteristics of the generators also made it easier to meet local Health, Safety, and Environment requirements."

Roots Group secured not only the machine order but also the service contract, which included providing a one year unlimited running hour warranty. In addition, Roots Group committed to provide one service technician per site where a generator was located; with a full package of replacement parts and service tools made available at all times. After seven months of the generators being deployed no major breakdowns have occurred, with the machines demonstrating consistent performance throughout the hottest months of August and September.

Box-out – CPSG generators

CPSG stationary generators are designed to provide excellent durability, and incorporate user-friendly features that make them easy to position, operate and maintain on construction work sites. The generators are both easy to install, due to their dual-position (top and front) air outlets, and eco-friendly, as they feature a spillage free frame design that provides for easy and clean drainage of all liquids. In addition, they provide for quick serviceability and maintenance via large removable 45º doors.

A wide range of additional options can also be added to each unit, which means that contractors can customise a CPSG stationary generator for their specific needs and applications. This includes a high capacity fuel tank, offering easy and fast connections for external filling, an additional fuel filter with water separator, battery isolation switch, battery charger, engine coolant heater, open frame and lifting beam.