Clam-Our for buyers anticipated as world's biggest giant clam shell comes to Dubai
A passionate environmentalist who transforms his archaeological discoveries into luxury goods is looking to find a Dubai hotel to become home to his most spectacular find yet: 'the world's biggest giant clam shell', which he's crafted into a SINK.

Marine conservationist Volker Bassen is bringing the 180,000-year-old fossil and its pearl, one of the rarest in the world, to The Hotel Show Dubai 2017 in September, to exhibit alongside the raft of ancient finds he has remodeled into practical – and stunning – furnishings.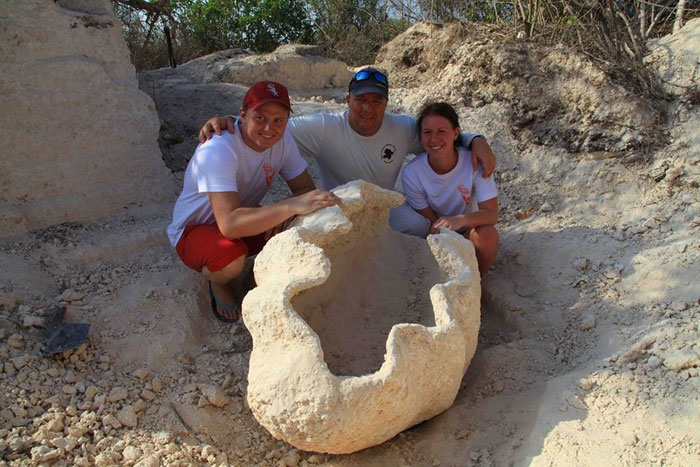 The shell, which Bassen excavated in a limestone quarry along the Kenya-Tanzania border and weighs a whopping 373kg, is up for grabs as perhaps the most bespoke sink to have ever been sold in the UAE – the proceeds of which will go to charity.

The expert archeologist explained: "Throughout history clamshells have been found in quarries along the East African coast. When I first saw one of them 20 years ago, I was amazed by the sheer beauty and size. The shells have not seen sunlight for at least 180,000 years, at which time they became extinct. Now we are able to bring out their beauty by using skilled craftsmen to carefully clean, grind and polish them.

"The largest giant clam shell on record was discovered off the Japanese island of Okinawa in 1956, with a weight recorded at 270kg. My biggest clamshell weighs about 100kg more. Today's giant clamshells, Tridacna Gigas, are heavily protected. Since my clamshells are fossils from an extinct species, Tridacna Gigantea (which grew 30% larger), worldwide import and export is permitted."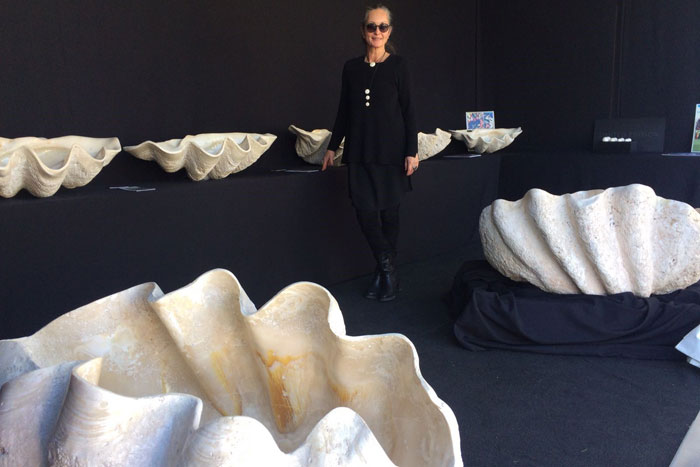 Bassen has only exhibited the shells at gemstone, mineral and fossil shows in Europe, China, Hong Kong, USA thus far

Bassen, who describes himself as "half German, half Swede", came to Africa in 1990 rescuing ancient sea-life fossils along the East African coast and selling them as bespoke pieces for charity. He works on a number of community outreach projects in Kenya and Tanzania, whilst running the East African Whale Shark Trust which he established in 2005.

This is the first time that Bassen's collection of giant clam shell fossils will be showcased and sold in the Middle East. One recently sold for US $32,000 (around US $100 per kg) during the Tucson Gemstone, Mineral & Fossil Showcase 2017 in Arizona.

"Ten years ago I would find around 10-15 giant clam shells per month, nowadays I'm lucky if at 3-5 per month," Bassen added.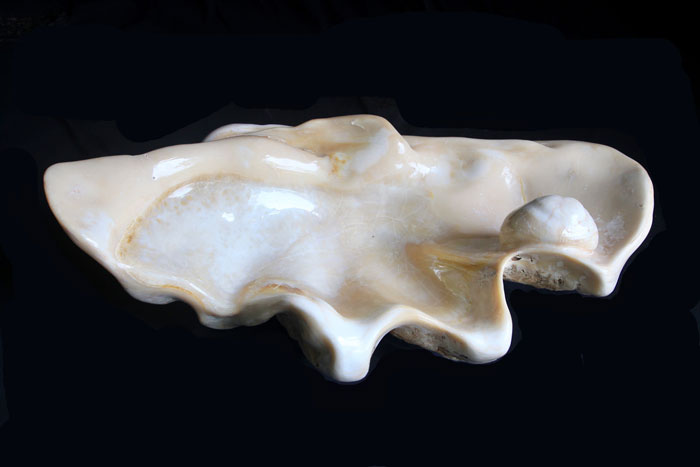 The biggest baroque blister pearl in Bassen's collection - the size of a mango - to be showcased at The Hotel Show Dubai

"Also, about 95% of clamshells discovered are single clamshells and damaged to some extent. Only by using Ground Penetrating Radar (GPR) techniques are we able to discover double clamshells which are carefully excavated. Double clamshells are extremely rare, I only have 22 in my collection after collecting them for 20 years."

"It is difficult to say how many are left but I can promise you that there are more diamonds available in the world compared to these giant clam shells," Bassen concluded.
A baroque blister pearl found inside the giant clam shell will also be showcased at The Hotel Show – but it's not currently for sale.

"Today's giant clam species produce the largest pearls in the world (baroque blister pearls) most notably the Pearl of Allah, with an estimated value of US $50 million," Bassen commented.

"So far I have collected five, and the biggest one is the size of a mango! This one I will display at The Hotel Show. Not for sale, although if I got an offer I couldn't resist I might consider selling it. There are hundreds of Tridacna Gigas pearls found but only five from the extinct species Tridacna Gigantea, making them the rarest pearls in the world."

The Hotel Show Dubai will take place across three days, 18-20th September 2017, at the Dubai World Trade Centre (DWTC) as part of Dubai International Hospitality Week.

The Dubai Tourism endorsed event, organised by dmg events and the DWTC, is expected to attract more than 50,000 visitors. Find out more and register to attend for free at: www.thehotelshow.com