Clean Energy Compressors and Dam Project Go Hand-In-Hand in Pakistan
More than 60 years in the planning the $1.9 billion Suki Kinari Hydropower project on the Kunhar River is the centerpiece of an ambitious plan to boost renewable power generation in electricity-starved Pakistan. It is located in the northwestern region of the country, along the Afghanistan–Pakistan border and close to the Chinese border. When finished, the dam will be 55 meters high and 336 meters wide – holding back a 3km long reservoir containing a gigantic nine million cubic meters of water. As the damn nears completion late this year or early in 2023, this hydropower plant will help power Pakistan's industrial development and economic recovery, giving a much-needed socio-economic boost to the local people.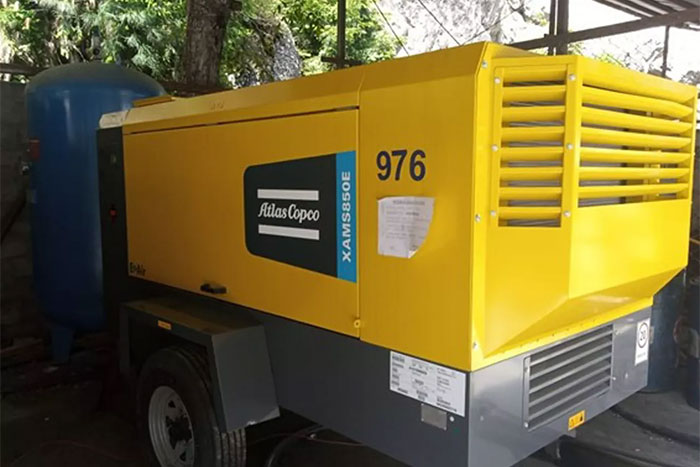 Electric compressors for underground work
In pure engineering terms, dam projects are among the most challenging construction projects around. Fortunately, the Suki Kinari hydropower project is in safe hands. Its main contractor, China Geshoubha Group Company (CGGC), is an expert in the field of hydropower infrastructure and – knowing a good thing when it sees it – is using Atlas Copco electric compressors – known as E-Air – in its work boring the almost 20 kilometers of tunnels and shafts the project requires.
The 45 electric units make the excavations more user-friendly since they do not emit noxious gases and are extremely quiet in use. Because of this, these mobile units can be used safely underground, right at the location of use, ensuring the works proceed efficiently.
"We are very satisfied with the portable range of electric compressors from Atlas Copco," says Mr. Maa from the Equipment & Material Department of CGGC. "We have been successfully using products from Atlas Copco several years, and in its new electric range we have discovered interesting advantages to improve our ways of working. The E-air range offers us more freedom on difficult terrains, higher reliability – all delivered with a low operating cost."
Besides the electric compressors, a range of units powered by traditional energy from Atlas Copco are also at work, used in applications such as breaking, drilling and tunneling at the site. Because the terrain is difficult, with many locations difficult to reach, the go-anywhere ability of smaller portable compressors is a perfect match for this assignment.
@AtlasCopcoGroup #AtlasCopcoGroup #AtlasCopco #AirCompressor #CleanEnergy
Website:
https://www.atlascopco.com/en-uk/construction-equipment/products/mobile-air-compressors/electric-compressor