Climate control with an app for increasingly smart comfort
Designed to allow you to easily and intuitively set climate control in your home also remotely, the ClimaThermo Wi-Fi thermostat is the ideal solution for those who want to enjoy smart living. This device is easy to use thanks to the integrated Wi-Fi and intuitive By-clima App (available in all stores for Microsoft, iOS and Android devices) and can be controlled via smartphone or tablet at any time.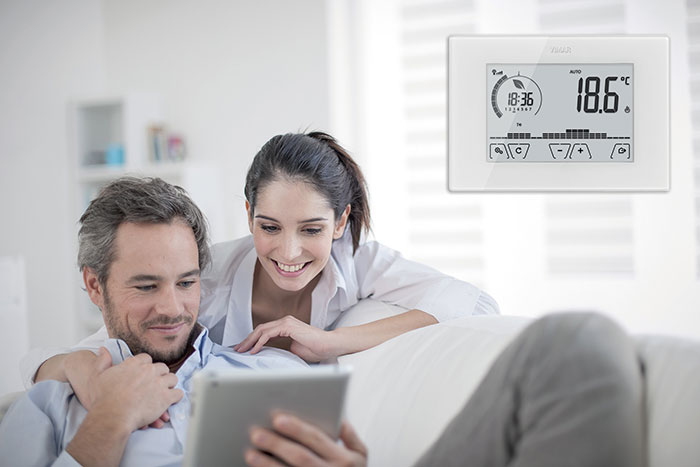 The large display with high-sensitivity touch screen enables easy operation even in manual mode. Suitable for any type of system (floor, radiator or fan coil systems), this device also allows you to quickly access some functions thanks to shortcut buttons: for example, the "output" mode, which automatically adjusts the temperature to a preset level, or the "economy" mode, which reduces the preset set-point to the desired value.

Suitable for any type of system, whether underfloor or with radiators or fan-coils, this device, thanks to the hotkeys, provides rapid access to a number of functions, including "exit" mode which automatically sets the temperature to a predetermined level and "economy" mode which reduces the set-point to the desired value. The special backlighting of the display also allows you to view menus and check the temperature by combining the effectiveness of digital technology and the simplicity of analogue graphics.

The easiest way to maintain ideal climate control in your home, wherever you are.

Technologically speaking, the thermostat has an advanced algorithm that allows you to keep the temperature as stable as possible, avoiding unnecessary variations in temperature and favouring energy saving, with the option of monitoring the total hours of boiler operation. Moreover, the intuitive Ecometer indicator, which shows consumption values and indicates – with a "small leaf" symbol – when the comfort temperature is exceeded, offers greater energy awareness. Together, these two features allow you to save up to 30% on energy costs.

Elegant design, advanced functions and easy to install.

ClimaThermo is not only a smart device but it is also beautiful to look at. In fact, this thermostat combines cutting-edge technology with sophisticated design. Thanks to its reflex finish, the lightly wafer-thin silhouette recreates a special glass effect that allows the device to blend in perfectly with any living environment. This is all complemented by Vimar's Made in Italy quality and covered by a 3-year warranty.

@vimar_com #ClimaThermo