CloudWorx for BricsCAD
Leica Geosystems, part of Hexagon and Bricsys nv are pleased to announce the availability of the CloudWorx for BricsCADⓇ application plug-in. CloudWorx for BricsCAD allows users to quickly and simply turn their point cloud data into models and linework through smart automation workflows. CloudWorx for BricsCAD is identical in power and functionality to the existing CloudWorx Pro for AutodeskⓇ AutoCADⓇ plug-in.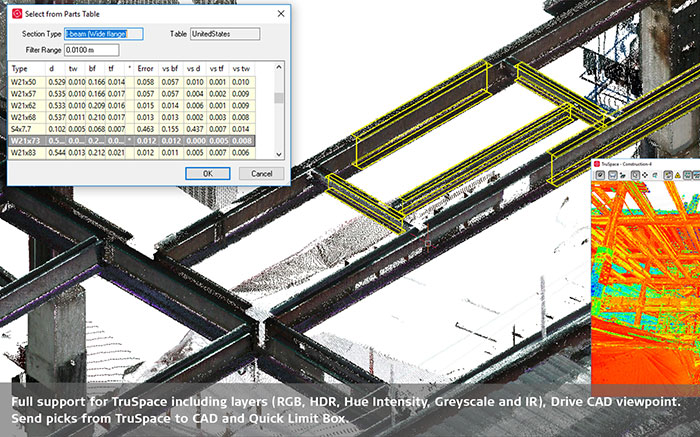 The Leica CloudWorx system gives users the ability to work efficiently with large point clouds directly inside of BricsCAD. CloudWorx is designed for projects of any scale, allowing users to easily handle projects in the billions of points. "All the points, all the time" display prevents rework from misunderstanding data as displayed, while increasing precision and accuracy. Users have access to all native BricsCAD tools and commands, in addition to the complete set of specialized point cloud commands provided by CloudWorx such as semi-automated 2D linework , automatic clash and anti-clash detection and model fitting features.

CloudWorx for BricsCAD allows users to leverage the power of Leica Geosystems' JetStream technology for centralized data storage and ease of collaboration while working with big data. With this release, CloudWorx supports Leica Geosystems' all-new LGS universal project file. LGS combines the speed of JetStream with full project metadata, streamlining project deliverables and archiving processes.

Leica Geosystems – when it has to be right Revolutionising the world of measurement and survey for nearly 200 years, Leica Geosystems, part of Hexagon, creates complete solutions for professionals across the planet. Known for premium products and innovative solution development, professionals in a diverse mix of industries, such as aerospace and defence, safety and security, construction, and manufacturing, trust Leica Geosystems for all their geospatial needs. With precise and accurate instruments, sophisticated software, and trusted services, Leica Geosystems delivers value every day to those shaping the future of our world.