Cofely Besix Facility Management receives NADCA Certification
Cofely Besix Facility Management, the region's leading FM provider, has been awarded membership to NADCA (The National Air Duct Cleaners Association).

NADCA is a global trade association, dedicated to providing information and helpful tools to the HVAC inspection, cleaning and restoration industry, and support their members in attaining success with standards, education, certification, marketing and advocacy to promote the highest quality and ethical services.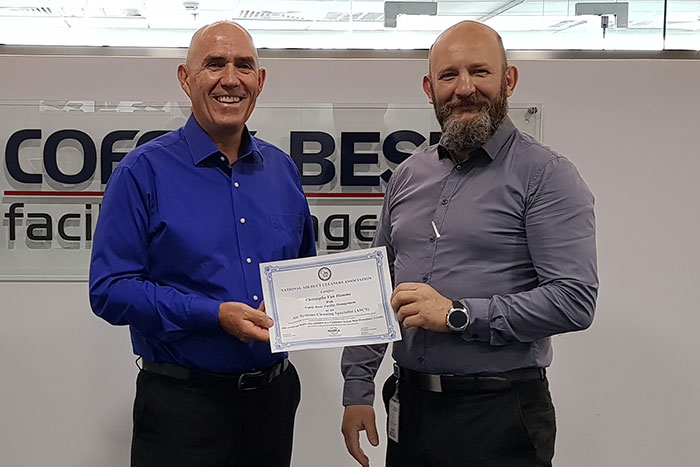 Nicholas Powell, UAE Country Manager and Christophe Van Hamme, Facility Manager.
"The Environmental Protection Agency (EPA) has listed indoor air pollution as the fourth greatest environmental threat; with indoor air found in some cases, up to 70 times more polluted than the outdoor air," explained Bart Holsters, Operations Manager of Cofely Besix Facility Management.

"At CBFM quality and safety are always of our highest priority, and as duct cleaning and inspection is a highly-specialist activity, it is not surprising there is a requirement for competent and trained personnel. This is the reason we have chosen to become an active NADCA member, and with our specialist duct cleaning staff being NADCA trained and certified, we can now provide assurance to our clients that we conduct this activity to the highest standards."

NADCA's membership continues to grow each year, along with its training, education and certification opportunities for air systems cleaning specialists, mold remediators, HVAC inspectors and others. NADCA has also published industry standards, educational materials and other useful information for consumers and members alike.

As Cofely Besix Facility Management's certified 'Air Systems Cleaning Specialist' (ASCS), Christophe Van Hamme functions as the reference point and trainer for all staff within the company, and is able to answer questions about a particular project, including safety Issues and providing proof that the job has been done correctly.

"The new certification will definitely open new opportunities for us, and reinforce our skills in accordance with the latest industry standards and guidelines," said Van Hamme.
"With the NADCA certification, we are able to provide our clients with the best information and guidelines in order to maintain and restore HVAC equipment to an optimal level of performance."

"Our trained technicians are also able to demonstrate to our clients the diagnostic process involved during maintenance, and inform them of any obstacles encountered. Their main task is to ensure that the client's HVAC system equipment is fully functional and restored in order to achieve optimal performance as well as providing 100% satisfaction on the air duct cleaning and air quality," added Van Hamme.

NADCA was originally formed in 1989 as a non-profit association of companies engaged in the cleaning of HVAC systems. Its original mission was to promote source removal as the only acceptable method of cleaning and to establish industry standards for the association.

NADCA's mission has since expanded to include qualified companies engaged in the inspection, cleaning and restoration of HVAC systems. The goal of the association is for its members to be the number one resource for consumers and other entities seeking air duct cleaning and HVAC inspection, cleaning and restoration.