Commercial architecture and design in the middle east reaching a stage of maturity.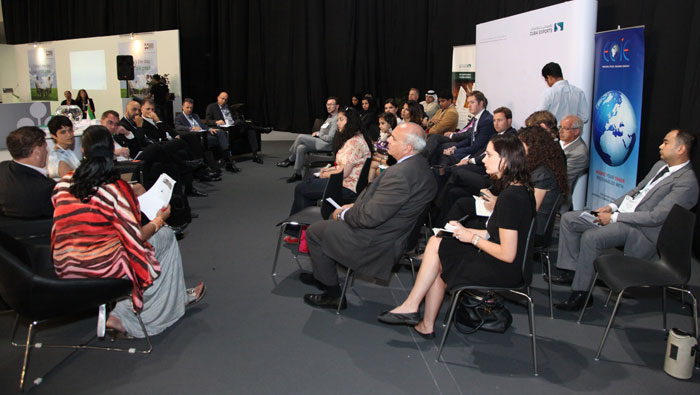 Architecture and design in the Middle East is at a point of inflection as the industry moves to create a distinct design vernacular. This visual language is being shaped by the region's cultural diversity and a young, internationally educated and technologically inclined workforce. That was the broad consensus of industry leaders at the Design Executive Roundtable, held yesterday at The Office Exhibition 2012.
The session, represented by the heads of leading architectural and design firms, was chaired by Cheryl Durst, Executive Vice President and CEO of the International Interior Design Association (IIDA). With the practice of design universally recognised as a cultural imperative, the panellists debated how workplace design is helping to elevate standards of architecture in the region.
According to the group, the days of building iconic buildings for the sake of being iconic are a thing of the past. "A younger, internationally educated workforce is making more informed and considered decisions when it comes to workplace design. They understand more the importance of efficient, fit for purpose buildings", said Steven Charlton, Managing Director, Pringle Brandon.
Professor Shams Naga, Principal of Naga Architects, Designers & Planners, agreed. "The global recession has had a positive impact in the region in terms of helping people place a higher importance on 'the real value of things'. We are now collaborating with clients on the design process. This is better for us as an industry as design should be a two-way process. Now is the time to produce 'good' architecture," he said.
Scott Whittaker, Executive Director & Founder, dwp, added: "Cultural diversity, coupled with pressure from international firms in the region to conform to global standards of design, is leading designers to create a new, unique style for the region."
The group agreed technology has profoundly influenced this shift towards a more mature design market, not only because it improves clients' access to information but also by necessitating a fundamental change in how people interact in the workplace.
Pallavi Dean, Design Director at Pallavi Dean Interiors suggested the management of various virtual communication networks could well be eating into precious employee time and productivity. She said, "Multitasking has become the norm in the workplace with so many virtual communication networks to manage. What should primarily be used to enhance productivity is in fact reducing it?"
Daniel Hajjar, Senior Vice President & Regional Manager MENA at HOK, added: "Design is impacted by how we interact within our personal space. But interaction has become minimal with the youth today more attached to gadgets than to people. The onus for us as designers should be on how we use social media networks to improve the work process."
According to Durst, the design profession worldwide now has a mandate to create spaces where people can think. "Our attachment to technology means reacting and responding to situations has replaced true work. Human beings need interaction and they need time to think. The question now becomes what kinds of spaces do knowledge workers need?"
The panelists agreed that while employee mobility and connectedness requires office spaces and products that are also flexible and simple in their configuration, people will always gravitate towards a physical location in which to interact and collaborate. The workplace will remain an important part of the built environment, but there is now greater demand for creating spaces that are designed to last.
Durst asked if this trend towards longevity was the result of sustainability becoming more important. The panel agreed the region has a better appetite for sustainable design since the economic crisis, but criticised the level of commitment to such goals. Dean remarked: "Although companies say they want to be sustainable, environmental considerations are still the first to go when a project gets value engineered."
Ben Corrigan, Group Director, Bluehaus Group attributed this phenomenon to a transient "work culture" that exists in the UAE. He said, "If a CEO or manager is on a limited contract with the company and knows they are living here for the short-term, it is likely they are going to care less about being committed to meeting longer term sustainable goals."
Marcos Bish, Managing Director, Summertown Interiors, added, "Clients will not want to go green unless they see commercial benefit in it. As consultants, we should demonstrate the long-term green value proposition upfront. We have a responsibility to explain this to and educate our clients."
Closing comments from the group explored the future of design practice in the Middle East. Participants said the global recession has forced clients to assess the "value" of everything in business and this has extended to design as well.
Corrigan explained: "Client briefs have changed today from what they used to be before the financial slowdown. They are more about value addition than all things nice to have and I am optimistic that this will continue. We spoke about technology not being optimised in the workplace and that should be the focus of the next generation of designers - truly integrated technology that adds value to the work process."
In closing the session Durst concluded: "Design is meant to improve the way we do things and in turn improve the human condition. This is, and will be, the basic and the most important contribution of design, in any age and era. And that should be the focus of every designer."