Construction Companies in Qatar Turn to Evaporative Cooling to Increase Productivity
With summer temperatures in the GCC reaching as high as 50°C, Portacool, LLC, the Texas-based global leader in evaporative cooling solutions, is forecasting double digit growth in the sale of its evaporative cooling solutions.

According to a new study, higher average temperatures and a greater number of hot days are ahead for the region as we go into July and August. Simultaneously the region's governments are increasingly focused on promoting sustainability and the HVAC industry has had to play a more active role to keep up with evolving markets in the GCC, which are demanding more efficient and economic modes of cooling. During recent years, the rate of Health Safety and Environment (HSE) investments has increased on the back of government and private sector participation. Portacool, has been working with companies across the Middle East and in Qatar with a specific focus in the construction sector to prevent heat stress by educating laborers and their employers to recognize the symptoms of heat illness to reduce the risk of accidents.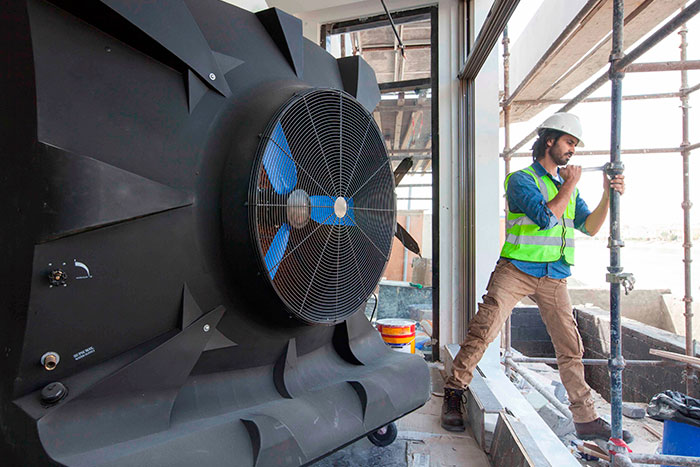 "Qatar construction pipeline remains robust leading to more laborers coming to the region to provide the necessary manpower to help build these high-rises, roads and mega-construction projects," said Bob Mangiaforte, Vice President of Sales, Portacool LLC. "And despite efforts to incorporate elements of natural cooling into buildings and architecture, the prevalent cooling trends remain firmly within the HVAC sphere.

"The implications on safety, productivity, man hours lost and costs all play a role. Studies have shown that when excessive perspiration occurs, body fluids are lost and worker productivity can suffer by up to 12% with as little as 1% body fluid loss. This results can be damning for both the individuals and companies," Mangiaforte said.

Especially on sites where traditional cooling is cost prohibitive or inefficient, companies that offer evaporative cooling solutions can help keep working environments cool, keep workers more hydrated and in turn help businesses run more efficiently. This was the case during the construction of the New Doha International Airport (NDIA) project which presented many challenges for all involved. The undertaking itself was immense – 60 per cent of the site is on reclaimed land and involved the moving and desalinating of 6.5 million cubic meters of waste material for landfill, which makes it the largest environmental project the region has ever seen. This coupled with the Gulf's extreme weather posed an even greater challenge and the potential risk to workers' health and productivity caused a major concern. To remedy the situation, Nehmeh, recognized as the partner of choice for industrial solutions in Qatar and the region, teamed up with Portacool to provide cooling solutions for thousands of workers.

"We were able to contribute to the successful construction of the New Doha International Airport project, now Hamad International Airport, by working with contractors to provide comfortable environments for laborers," said Simon A. Nehme, Chief Business Development Officer, Nehmeh. "We were able to deliver more than 130 Portacool portable evaporative coolers to support our valued customer. In this case the contractors at the Airport to succeed in achieving their milestones."

In Qatar, workers are not allowed to work when the temperature reaches 50° Celsius (122° Fahrenheit). Worker productivity has been proven to be significantly affected by temperatures as low as 33° Celsius (92° Fahrenheit).