Convenience at Heart of Kärcher's New Portable Pressure Washer
Spending time outdoors is good for the mind, body, and soul. Whether it is through physical activity such as cycling, or relaxation at the beach, the open air can rejuvenate tired minds, limbs, and spirts. But there is one spoiler that threatens to undo the rested mind and body: dirt! In any form: mud, sand, or grease, getting it off of oneself, and any equipment used for outdoor activities, can be an annoying task made worse if it is taken back into a vehicle or home.

And in the UAE, the fine sand either from a desert outing, or from the beach, requires patience and water to wash off.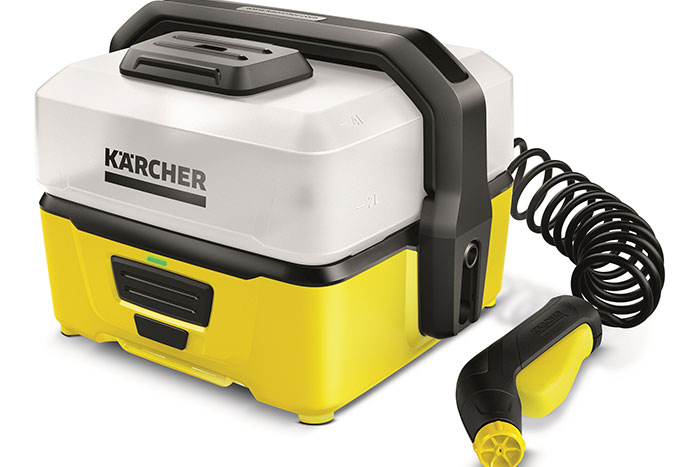 Understanding consumer needs, and taking into consideration that cleaning tasks could arise anywhere, Kärcher, the world leader in innovative cleaning technology solutions developed the new OC3 Mobile Pressure Washer. Designed to be lightweight, compact, and complete with its own removable water tank, the OC3 Mobile Pressure Washer works on a lithium-ion battery, which means it can be used anywhere as long as it is charged. Charging the OC3 is rather simple: a light indicator on the power button helps determine the battery level, while a full-charge takes approximately three hours.

Once charged, and the removable water tank filled and replaced, it can be taken along anywhere—the tough outer casing ensures it is built for mobility and rugged use, so there is no additional worry or care necessary when taking it in a vehicle.

The Portable Pressure Washer boasts of light pressure and a default flat stream nozzle which can be used on a variety of surfaces for the removal of multiple sources of dirt which the OC3 Pressure Washer efficiently tackles to thoroughly remove stains. The default accessories can be used for various tasks from cleaning bicycles and kite surfing equipment, to fine desert sand-covered parts of off-roading vehicles to delicate surfaces which includes baby stroller and removing beach sand of oneself and pets.

The ergonomic design of the trigger gun and its large plastic trigger button makes holding it and controlling the water flow easy. In fact, the lightweight components and ergonomically designed controls, make using the OCR Pressure Washer comfortable, convenient, and easy. The design of the OC3 Mobile Pressure Washer also takes into consideration valuable trunk space, and therefore it has allocated slots within itself, below its removable four-litre water tank, for its default 2.8m spiral hose and trigger gun.

The applications of the lightweight Pressure Washer are only limited to imagination. Home appliances designed for cleaning sometimes work against the nature of the task, causing more frustration and therefore, taking more time to complete. This is generally the issue with devices that constantly need to be plugged-in for power which limits its applicability and mobility. It could be used around the house, on window sills, on garden tools, and other hard to reach areas because its light pressure and flat stream is ideal for delicate surfaces. The OC3 Mobile Pressure Washer is a compact, versatile, and self-sustaining machine with its own mobile power source and water tank. It is a complete cleaning solution on the go, and the first of its kind for Kärcher.