Crystal Lagoons provides centrepiece for launch of new South-East Asia tourism projects
Crystal Lagoons, the patented technology developer of giant crystalline lagoons is winning a new legion of Asian water sports enthusiasts, with news that its first two South-East Asia projects are now both up-and-running.

The Indonesian island of Bintan was the first destination to unveil a hi-tech lagoon with a 6.3-hectare project, the centerpiece of phase one of the decade-long US$3 billion Treasure Bay Bintan tourism development.

Part of the Landmarks Berhad portfolio and located in the heart of the Southern Precinct of the 338-hectare mixed-use development, the lagoon complements the upscale Canyon Ranch-operated spa facilities and other entertainment options for visitors and residents alike.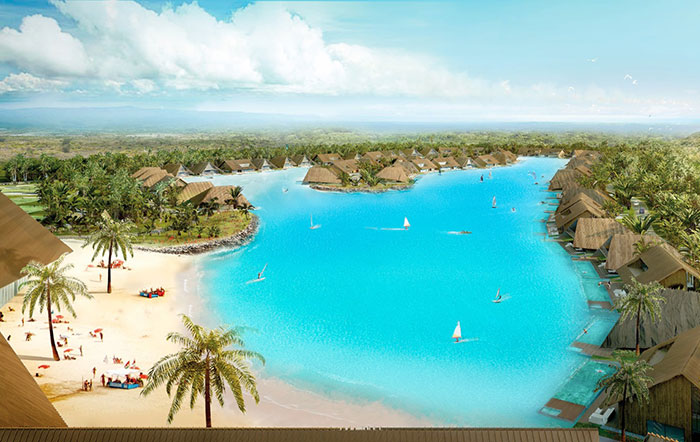 "Indonesia is on the fast-track to widespread tourism development and with its growing middle class, there is also huge latent demand within the domestic market. The introduction of this first-of-its-kind project, is clear evidence of the country's commitment to raising the profile of its luxury real estate and high-end tourism product," said Carlos Salas, Regional Director Middle East, Crystal Lagoons.

Crystal Lagoons incorporated a number of unique interactive attractions designed to provide a diverse range of experiences for keen water sport enthusiasts and families alike, such as a bungee jumping platform and cable water ski facility, with the lagoon fringed by 1,400 metres of stunningly landscaped beachfront.

The company's second recently completed South-East Asia project is the seven-hectare MahaSamutr development. Located in Thailand's upmarket Hua Hin resort in the south of the country, the lagoon is the focal point of this luxury real estate project being developed by leading local real estate company PACE Development.

Designed by renowned Japanese architect, Kengo Kuma, the 19.5-hectare mixed-use community includes 90 bespoke Thai inspired villas ranging in price from US$1.5 million up to US$2.5 million, each with direct lagoon access.

"This project represents our first foothold in this exciting tourism-focused market and has definitely raised the bar for water-based leisure experiences in the region," said Salas.

The lagoon is at the heart of the project and is complemented by an exclusive beach and country clubs offering a range of exclusive amenities including private swimming pool, spa, water sports, social events and waterfront dining. A limited number of non-residents will also be able to become members of the country club and enjoy access to the unique ambiance of the crystalline lagoon.

Crystal Lagoons' innovative patented technology has allowed the company to expand its global presence in a relatively short period of time, with its cost-effective build and operate model giving tourism destinations a key advantage in a highly competitive marketplace.

"It also sends out a signal that these destinations are committed to meeting long term sustainability goals, which will become a major differentiator as more and more tourists become environmentally aware," noted Salas.

The only international company with the technological expertise to develop economically viable manmade bodies of water on such a vast scale, Crystal Lagoons is now perceived as a unique product differentiator, by high profile tourism project developers around the world.

Designed to be self-cleaning, the lagoons use up to 100 times less chemicals than traditional systems, and only two per cent of the energy required by conventional filtering technologies, making them incredibly sustainable.

Crystal Lagoons has also announced two further projects in Asia, located in India and Malaysia, boosting its already impressive global portfolio of 300 projects spread across 60 countries. It also holds two Guinness World Records' titles with high profile locations in San Alfonso del Mar, Chile and Sharm El Sheik, Egypt, which is currently the world's largest lagoon at 12.5 hectares.