Crystal Lagoons to promote healthy living in 2017
Crystal Lagoons are providing the perfect remedy for homeowners with a passion for fitness in the Middle East and Egypt with the ultimate aquatic workout. Crystal Lagoons, the owner of unique sustainable technology, enables the low-cost construction and maintenance of large bodies of crystal clear water in an idyllic beach setting, while providing the perfect backdrop for a healthy living lifestyle.

The international water innovation company and developer of the world's top amenity is transforming various sites across the region to provide the perfect environment for kayaking, swimming, laser sailing and the ultimate on-trend calorie torcher, paddle boarding – the ideal tonic for those looking to kick-start a healthy 2017.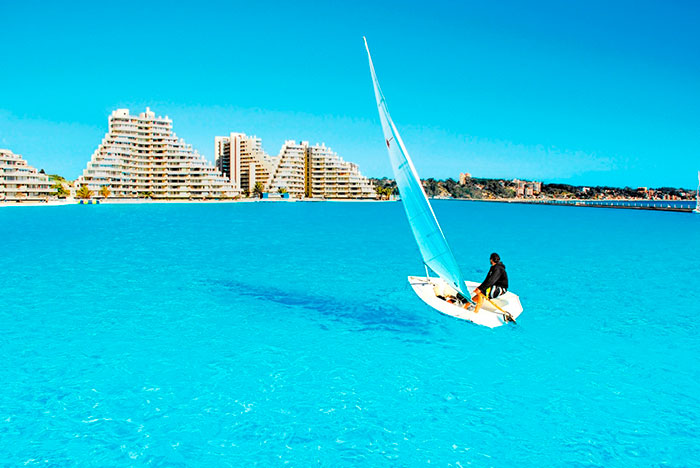 Carlos Salas, Regional Director, Middle East, Crystal Lagoons said: "A Crystal Lagoon has always provided a top-class leisure facility however residents are now also recognising the many health benefits they offer deciding to swap a sedentary lifestyle for a water-based experience with an exciting selection of sporting activities. This in turn is having a positive economic impact on property ownership, as not only is occupancy maintained, word of mouth endorsements are promoting sales."

According to the American Council on Exercise, stand up paddle boarding, the full-body workout enjoyed by celebrities such as Jennifer Aniston, Cindy Crawford and Lewis Hamilton, can burn as many as 430 calories per hour. When kayaking, a 60kg person burns about 283 calories per hour, a 90kg person burns a whopping 454 calories.

Laser sailing, using an Olympic class sailboat, can be enjoyed in Crystal Lagoons around the world, and in moderate conditions, burns 204 calories per hour.

A Crystal Lagoon offers a safe environment thanks to the calm waters, easy beach access, shallow areas for beginners while also offering a more challenging swim for those looking for a serious workout.

The current record holder for the world's largest lagoon, the 12.5-hectare Sharm El Sheikh project, part of the US$500 million Citystars tourism development by Egypt's Sharbatly family, provides ample space for keeping fit. With a circumference of 22km, swimming at an average speed of two miles per hour, would take almost seven hours to circumnavigate and burn over 2,800 calories in the process.

The lagoon at the Mohammed Bin Rashid Al Maktoum City - District One, a luxury residential development, once completed, is expected to boast more than 36 hectares, forming the world's largest manmade lagoon, almost four-times bigger than the world's largest existing lagoon, and providing ample space for residents to enjoy the exercise benefits.

The surrounding area will include 14 kilometres of sandy beach and a boardwalk of more than seven kilometres, perfect for leisurely strolls and mid-distance running.

As well as providing a way to enhance human health, Crystal Lagoons are also good for the environment. Not only does the cutting-edge technology use over 96% less water required by a golf course and half the water required to irrigate a park, Crystal Lagoons can use any type of water, including fresh, salt and brackish.

The developer has grown a reputation for being able to take mass bodies of water anywhere in the world, creating an idyllic beach lifestyle for homeowners within a community with a Crystal Lagoon.

The multinational innovation company and developer of patented technology, holds two Guinness World Records for the world's largest lagoons: the first in San Alfonso del Mar, Chile, and the second at Sharm El Sheik, Egypt, which is the current world record holder at 12.5 hectares. By 2020, the lagoon in Mohammed Bin Rashid Al Maktoum City - District One will hold this record.

Crystal Lagoons currently boasts over 600 projects in different stages of development and negotiation worldwide.