Cummins Power Train 2012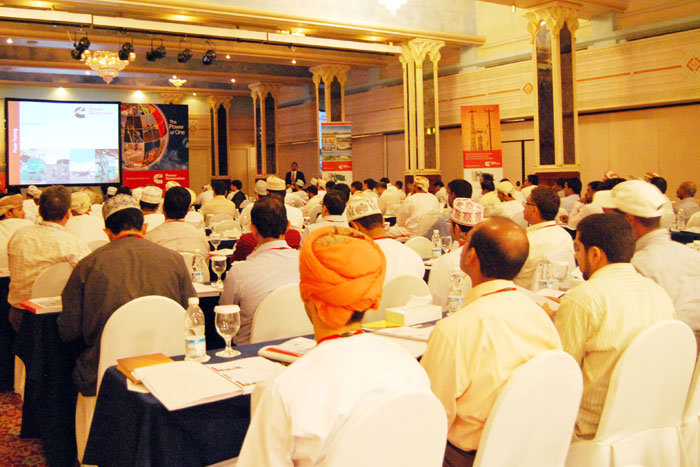 Cummins Power Generation has returned to the Middle East after the success of Power Train 2010 to deliver the Second Power Train 2012 in collaboration with Cummins Middle East. Training sessions were held during May, 2012 in Muscat Oman, hosted by CME's official dealer Universal Engineering Services LLC, and in Beirut, Lebanon, hosted by CME's Lebanon branch.
Power Train focuses on various aspects of power generation such as Mechanical & Electrical Fundamentals of Generator Set Installation, Digital Paralleling Basics and its Advantages, Understanding Generator Set Ratings, The Changing World of Emission Standards, Special Considerations for Medium Voltage, Generator and Master Control Systems and Understanding Sound Levels. This program is organized to share knowledge on latest technology available worldwide in the field of power generation.
The presenters were high-profile Cummins employees from various location around the world who are considered industry veterans; each with over 20 years of experience in engineering, application and installation. Participants included industry professionals from various sectors like Education, Health, Defense, Information Technology, Manpower, Civil Aviation, Banks and prominent consultants. The Power Train 2-day session is certified by the Institute of Engineering & Technology (IET) and participants receive an official IET certificate at the end of the course.
Participation in Power Train 2012 was much higher than anticipated indicating the success of the 2010 sessions, and highlighting the real value which participants feel they receive upon its completion. A demonstration of live remote control and monitoring of a generator set through simple Easy-To-Use PowerCommandiWatch TM was done which had an overwhelming response.
Cummins Power Generation and Cummins Middle East are committed to this program and to acting as partners to their customers, where the customers' successes are proof to Cummins' own success.
About Cummins
Cummins Inc., a global power leader, is a corporation of complementary business units that design, manufacture, distribute and service engines and related technologies, including fuel systems, controls, air handling, filtration, emission solutions and electrical power generation systems. Headquartered in Columbus, Indiana (USA), Cummins serves customers in more than 160 countries through its network of 550 Company-owned and independent distributor facilities and more than 5,700 dealer locations. In 2011, Cummins Inc. achieved revenue of $US18 billion.
Cummins Inc. 's presence in the Middle East began in 1956 and by early 2000, Cummins Middle East FZE, the first wholly-owned Cummins Inc. Distributor in the region, was established. In order for Cummins to strengthen its distribution network's reach and better support the increasingly growing engine population in the wider region, the Cummins Middle East Regional Distribution Organization was set up in 2006 and now encompasses responsibility for the following 12 countries; UAE, Bahrain, Qatar, Yemen, Oman, Saudi Arabia, Kuwait, Jordan, Iraq, Lebanon, Afghanistan and Pakistan. In May of 2010, Cummins ME RDO and Cummins Middle East FZE inaugurated their joint headquarters in the United Arab Emirates.
Cummins in the Middle East has recently opened the High Horsepower Master Rebuild Centre in Dubai, which is part of a global network of purpose-built facilities dedicated to high quality and high volume rebuilds of Cummins high horsepower engines, certified to Cummins Global Standards.